Caroline Ouellette was a pillar at forward on Canada's National Women's Team, winning four Olympic gold medals, six IIHF Women's World Championship golds as well as six silver and is a four-time winner of the Clarkson Cup.
Born May 25, 1979 in Montreal, Quebec, Caroline Ouellette began playing hockey at nine, learning the basics and developing her skills until she was 16 and invited to play for Team Quebec at the 1995 Canada Winter Games, taking the bronze medal. As a member of Quebec's Under-18 team in 1997, Ouellette won a gold medal at the National Women's Under-18 Championship. She represented Quebec at many Esso Women's Hockey Nationals, winning gold in 1999 and 2002, and silver in 2000, 2001 and 2006. Caroline was named MVP at the 2001 tournament and Top Forward in 1999.
Before making her first Olympic appearance in 2002, Ouellette was a member of the Concordia University Stingers, recording 19 points in seven games. Joining the University of Minnesota-Duluth in 2002-03, she played with the Bulldogs for three seasons and was named captain for the last two, while earning a degree in criminology. Helping the Bulldogs to back-to-back NCAA titles and making history as UMD became the first women's hockey team to win three consecutive titles (the first before Caroline attended the school in 2001-02), she was named the tournament's Most Outstanding Player in 2003.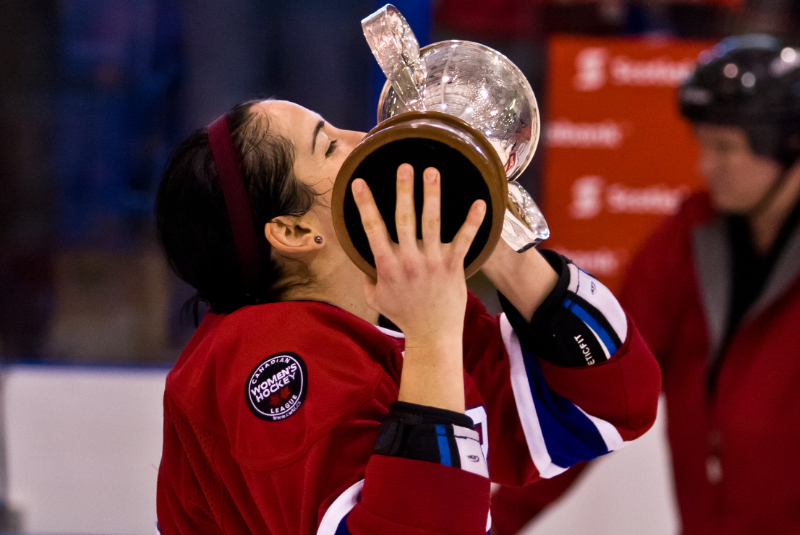 In 2023, she still ranks third in all-time scoring for the Bulldogs, and at the time her NCAA career concluded, she was fourth all-time in league scoring with 229 career points and was named to the WCHA All-Decade team in 2009.
Ouellette was a finalist for the Patty Kazmaier Award as the best female player in the NCAA twice; a Top 10 Finalist in 2004 and a Top 3 Finalist in 2005. On top of her accomplishments on the ice while at UMD, Caroline received many academic awards including the WCHA Student-Athlete of the Year and the E.L. 'Duce' Rasmussen Award (presented to the top scholar student-athlete at UMD) in 2005.
Making her debut with the senior Canadian Women's National Team in 1998-99, she went on to play in four Olympic Winter Games, winning a gold medal in 2002, 2006, 2010 and 2014, where she was captain. She is the only player to have entered at least four Olympic Winter Games events and won gold in all. Over 20 games across the tournaments, Caroline netted 26 points (9 goals, 17 assists) and holds the record for most goals in a period when she scored three against Italy in 2006, which also hold the record for the fastest three goals at 5:17.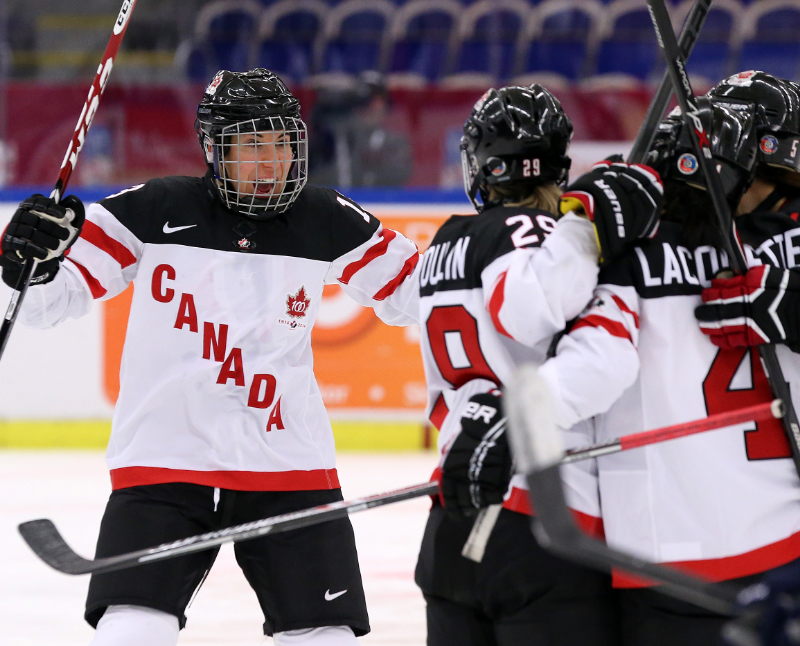 In 12 IIHF Women's World Championship appearances she won six gold medals (1999, 2000, 2001, 2004, 2007 and 2012) and six silver medals (2005, 2008, 2009, 2011, 2013 and 2015), contributing 68 points in 59 games. She also made 11 Four Nations Cup appearances, winning eight gold and four silver medals.
At the time of her retirement in 2018, Ouellette ranked third all-time in games played with the National Team, playing 220 games and ranks third all-time in scoring with 87 goals and 155 assists for 242 points.
Caroline played in the original National Women's Hockey League from 1998-02 and rejoined post-NCAA in 2005-06, playing with the Bonaventure Wingstar/Wingstar de Montreal/Axion de Montreal, winning the NWHL Championship in 2005-06. That was followed by two seasons with the Minnesota Whitecaps of the Western Women's Hockey League before she joined the Montreal Stars of the Canadian Women's Hockey League (CWHL) in 2008-09.
During her CWHL career, Caroline won the Angela James Bowl as the CWHL's leading scorer in 2010-11 with 68 points, was named the league's Most Valuable Player in 2009 and 2011 and was awarded the Clarkson Cup Championship MVP in 2012. She was the first player in CWHL history to reach the 300-point plateau, accomplishing that milestone in 2016-17 – the next closest total is 50 points back.
A four-time Clarkson Cup champion, Ouellette won with the Montreal Stars in 2009, 2011 and 2012 and again in 2017 as a member of Les Canadiennes de Montreal (the Stars re-branded in 2015). It was announced after the 2017 final that Caroline was pregnant with her first child with partner Julie Chu, teammate on Les Canadiennes and former rival on Team USA.
Both during her playing career and after her retirement in 2018, Ouellette has coached in different capacities with the University of Minnesota-Duluth, Hockey Canada, Les Canadiennes, Concordia University and at the Quebec International Pee-Wee Tournament, winning many championships and awards.
In 2019, Caroline was named to the Order of Canada and received an honorary doctorate from Concordia University. Caroline Ouellette is a member of the Triple Gold Club as one of the elite players to win a Clarkson Cup, an Olympic gold medal and an IIHF Women's World Championship gold medal, and is only one of six players to have these accomplishments plus an NCAA championship.
2023 was a very special year for Caroline Ouellette. She was inducted into the IIHF Hockey Hall of Fame, University of Minnesota Duluth Athletic Hall of Fame, named to the Ordre national du Quebec and was selected as an Honoured Member of the Hockey Hall of Fame in the Player Category.