Born March 31, 1965 in Boston, Massachusetts, Tom Barrasso grew up in nearby Stow, Massachusetts, and began his goaltending career playing on outdoor rinks at the age of five. He progressed rapidly, and by 16 he was tending goal for the Acton-Boxborough Colonials, his high school team that in 1982-83, won 22 and tied one during the 23-game season with Tom recording 10 shutouts and a goals-against average of 0.99. That season, he shared the goal crease on the United States' World Junior squad with John Vanbiesbrouck.
Regarded as the most promising netminder in the 1983 NHL Entry Draft, the Buffalo Sabres claimed Barrasso with the fifth overall pick. Eschewing college, junior or minor pro, Barrasso leapt directly from high school to playing in the NHL, and stunned the hockey community by winning 26 games, losing just 12 and tying three in his 42-game rookie season with the Sabres. In unprecedented fashion, he was awarded the Calder Trophy as the NHL's top rookie, was recipient of the Vezina Trophy as the league's best goaltender and was named to the NHL's First All-Star Team. Tom was just 19 years old, and to this date, was the youngest goaltender to win either trophy. And Barrasso is one of only three players to have won both awards in the same season, the others being Tony Esposito in 1969-70 and Ed Belfour in 1990-91.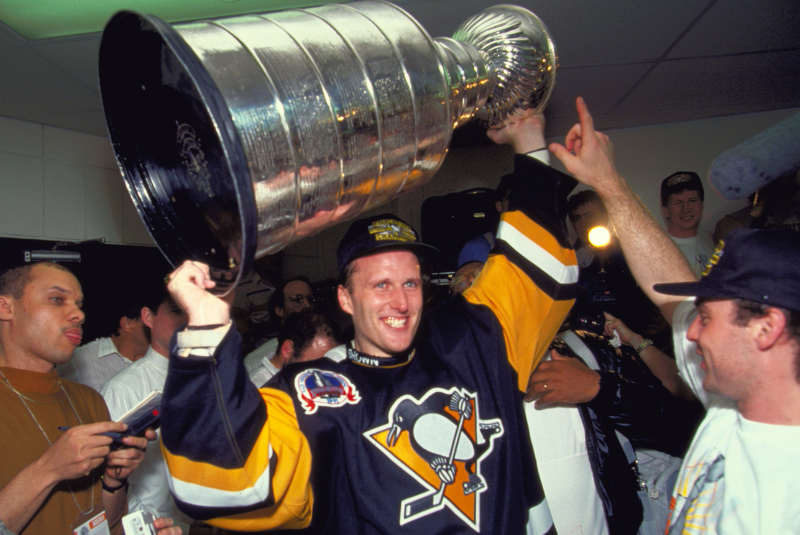 The young netminder proved that his rookie season was no fluke by coming up strong in 1984-85, his sophomore season. He led all NHL goaltenders with five shutouts and a sparkling 2.66 goals-against average. Tom was named to the NHL's Second All-Star Team, and along with goaltending partner Bob Sauve, collected the William Jennings Trophy as the team with the lowest goals-against average.
By 1988-89, the Sabres were struggling in goal. That season, Buffalo used six different goalies. But after just ten games into the season, Barrasso was traded to the Pittsburgh Penguins, where he helped lead the team to a second-place finish in the Patrick Division. The team was developing well, and finished first in the division in 1990-91, which preceded the franchise's first Stanley Cup championship. They were able to repeat in 1991-92. Barrasso's post-season play in both seasons established him as a 'money goalie': When the stakes are high, he played his best goal.
Barrasso had another sensational season in 1992-93, leading all goalies with 43 wins, which led to his selection to the NHL's Second All-Star Team at season's end. The Penguins finished first overall, and thus claimed the Presidents' Trophy.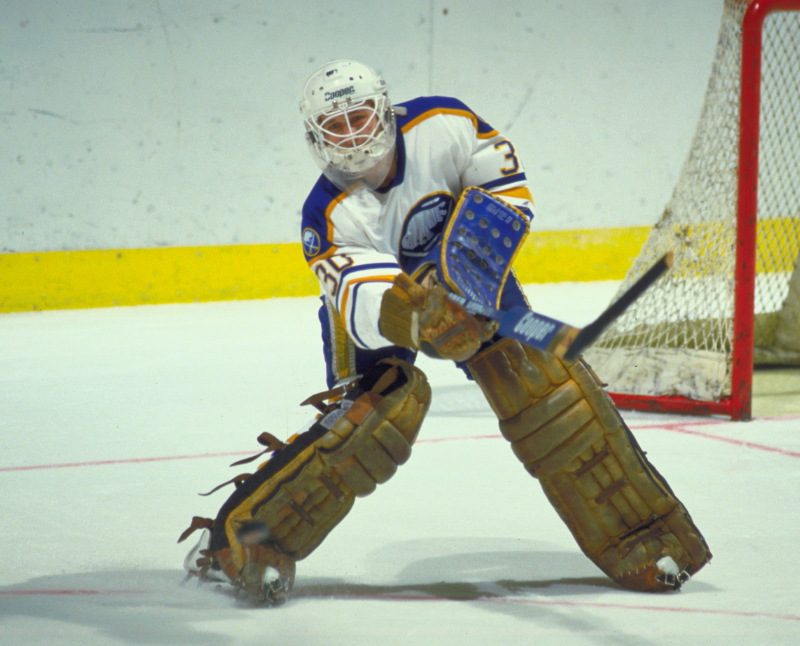 Injuries played havoc with Tom in 1994-95, limiting him to just two games that season, but he rebounded with another fine season in 1995-96. Then injury woes visited again, and Barrasso played just five games during the 1996-97 season.
At the trade deadline during the 1999-2000 season, Tom was traded to the Ottawa Senators. Following that season, Barrasso spent the entire 2000-01 season away from hockey, but he returned and signed with the Carolina Hurricanes for the 2001-02 season. Later that season, he was traded to the Toronto Maple Leafs. His nomadic late-career wanderings ended with the St. Louis Blues in 2002-03. He signed a one-day contract with the Penguins so he could retire in the familiar black and gold of Pittsburgh.
In 777 regular season games, Tom Barrasso won 369, lost 259, was in goal for 86 ties and 18 overtime losses. At the time of his retirement, Tom's regular season win total was the second-highest ever recorded by an American netminder. He also set NHL records for most career assists and most career points by a goaltender with 48.
In 119 NHL playoff games, Barrasso won 61 and lost 54. Playoff records include most consecutive wins in one playoff season (11 in 1992), most consecutive NHL playoff wins (14, stretching from May 9, 1992 to April 22, 1993) and shares the record with several goaltenders with most wins in one playoff season with 16 in 1992, the maximum number of wins a team can collect in the post-season.
Barrasso was a member of Team USA at the 1984 Canada Cup as a 19-year-old. He also played for his country at the 1986 IIHF Ice Hockey Men's World Championship, at the 1987 Canada Cup, and in 2002, he was also a member of Team USA, winning a silver medal at the Olympic Winter Games on home soil in Salt Lake City, Utah.
In 2009, Tom Barrasso was inducted into the United States Hockey Hall of Fame. One more honour surfaced in 2023 – induction into the Hockey Hall of Fame in the Player Category.