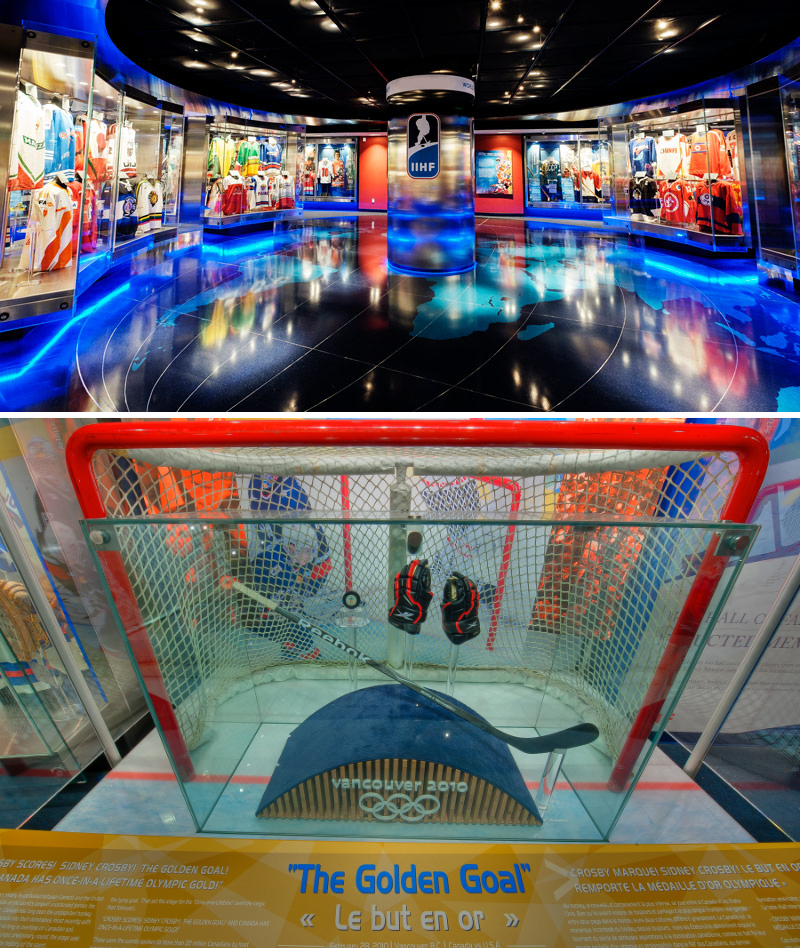 The National Bank World of Hockey Zone is the largest dedicated exhibit area within the Hockey Hall of Fame, providing an unparalleled tribute to international hockey through an unrivalled collection of artifacts and media from all 74 IIHF member countries.
The zone celebrates international hockey's greatest moments, tournaments, leagues and players, including the IIHF Hockey Hall of Fame Honour Roll and interactive Global Game Flight Deck, an immersive multimedia experience that provides visual travel to the past and to arenas across the world.
Notable artifacts showcased in the National Bank World of Hockey Zone include Dave Christian's Team USA jersey from the 1980 'Miracle on Ice' Olympic moment, the 'Lucky Loonie' from the 2002 Olympic Winter Games and the 2010 Olympic 'Golden Goal' display featuring Sidney Crosby's stick, gloves, puck, the podium and 'Golden Net'.
A new addition is 'Women's Hockey: Celebrating Excellence'. In addition to the artifacts and stories highlighted across the museum, this exhibit celebrates and chronicles the over century-long history of the women's game including trailblazers Hilda Ranscombe and Bev Beaver, Honoured Members Angela James, Cammi Granato and Jayna Hefford and current superstars Marie-Philip Poulin, Hilary Knight, Noora Räty and Sarah Fillier. Explore more here.
Commemorating one of hockey's finest, fiercest & most significant series, the '72 Summit Series: 50th Anniversary Tribute Exhibit is also found in the National Bank World of Hockey Zone. Learn more about the incredible artifacts and moments highlighted by clicking here.