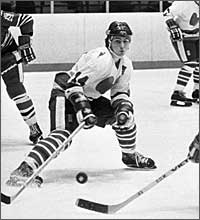 Ray Bourque was twice a first
team all-star in the Quebec Major Junior Hockey League.

Raymond Bourque, a model of proficiency and consistency at an elite level throughout his career, was born in Montreal, Quebec on December 28, 1960. Inspired by the firewagon offense and oppressive defense of his hometown Canadiens through the dynastic seventies, Raymond climbed the rungs of minor hockey, joining the Sorel Eperviers of the Quebec Major Junior Hockey League in 1976 at the age of sixteen. After three sterling junior seasons that merely hinted at the incredible potential held by the under-aged defenseman, Raymond Bourque was chosen by the Boston Bruins with their first selection in the 1979 Entry Draft.

That fall, Bourque made his NHL debut amidst the accolades of teammates, media and opponents. Quietly, methodically, Raymond dazzled, racking up 65 points; the most for a rookie defenseman in NHL history at the time. He was the obvious choice for the Calder Trophy and also earned selection to the NHL's First All-Star Team; the first non-goaltender to win both honours in the same season.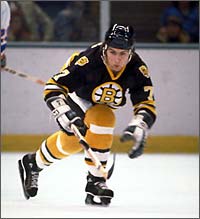 Bourque was named to the NHL's 1st All-Star team in his rookie year. Other than a goalie, he was the first to win the Calder and be named a 1st Team All-Star in the same year.

Wearing jersey number 7 through his first eight seasons with Boston, Bourque surrendered that number in December 1987 when the Bruins honoured Phil Esposito. At centre ice in front of Esposito and the Boston faithful, Raymond removed his jersey to reveal a second Bruins' sweater - this one numbered 77. Esposito's number could be retired and Bourque initiated wearing a number that he quickly established as uniquely his own in Boston.

Through twenty seasons with the Bruins, Bourque dominated, earning 17 selections to NHL All-Star Teams. He was a five-time recipient of the Norris Trophy as the NHL's best defenseman. Only Bobby Orr with eight and Doug Harvey with seven have earned more.

Bourque enjoyed a career season in 1983-84. His 31 goal output was a career high, and his 96 points were not only a career best, but led all defensemen that season.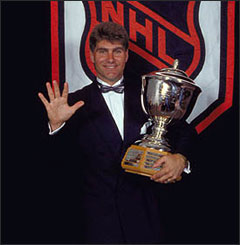 Bourque won the Norris Trophy on five occasions during his celebrated career.

Yet, in spite of all the personal accolades, the one achievement that had eluded Ray was hockey's ultimate team award -- the Stanley Cup. Although Boston had twice reached the championship final (1988 and 1990), the prize had eluded Bourque and the boys in Boston both times.

When the opportunity arose to join the Colorado Avalanche at the trading deadline in March 2000, Bourque deliberated, but decided to join the Stanley Cup contenders. Although Colorado wasn't successful in its goal that season, in 2000-2001, in a pursuit Ray labeled 'Mission 16 W', the Colorado Avalanche made Bourque's dream a reality when the team was crowned Stanley Cup champions. It had taken twenty-two seasons, but Raymond Bourque had finally achieved his lifelong dream. That summer, he retired.

During an extraordinary NHL career, Raymond Bourque collected 410 goals and 1,169 assists for 1,579 points in 1,612 regular season games. In 214 playoff contests, Bourque added 180 points on 41 goals and 139 assists. In 2004, Raymond Bourque was selected to join hockey's elite in the Hockey Hall of Fame.


| | | |
| --- | --- | --- |
| | | |
| Ray Bourque served as Boston's captain for 12 seasons (1988-89 to 1999-2000). | | There is no finer way to celebrate one's final NHL game than to raise the Stanley Cup. |