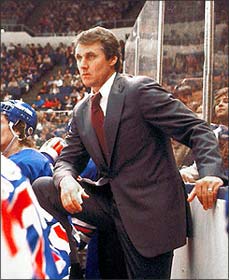 Herb Brooks, elected to the Hockey Hall of Fame in 2006.

Although much is made of the significant contributions made by Herb Brooks to the 1980 US Olympic gold medal 'Miracle on Ice,' it overshadows the remainder of a remarkable career for this life-long hockey coach.

Born August 5, 1937 in St. Paul, Minnesota, Herb dreamt of a professional hockey career like most young players. His St. Paul Johnson High School collected Minnesota's high school hockey championship in 1955, fuelled in part by two goals from Brooks in the championship contest. Herb later played for the University of Minnesota Golden Gophers between 1955 and 1959.

His international successes began early. As a player, Herb was a member of the United States National Team during two Olympic Games, and participated in five World Championships.

Brooks then moved into coaching, guiding the Golden Gophers for seven seasons beginning in 1972, collecting three NCAA Division 1 National Championships (1974, 1976 and 1979) and back-to-back WCHA championships in 1974 and 1975. Named WCHA Coach of the Year for 1973-74, Herb finished his collegiate coaching with a record of 175 wins, 101 losses and 20 ties.

After coaching Team USA at the 1979 World Championship, Brooks was named general manager and head coach of Team USA for the 1980 Winter Olympics. The team astonished the hockey world by collecting the gold medal in a triumph that has been heralded by the press as the 'Miracle On Ice.' The 2005 motion picture 'Miracle' chronicled the extraordinary accomplishment.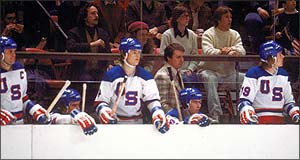 Coach Brooks rallied the underdog USA squad to a remarkable gold medal at the 1980 Olympic Winter Games.

Herb coached France at the 1998 Olympics, returning to coach Team USA to a silver medal at the 2002 Winter Games.

After the 1980 Olympics, Herb coached Davos of the Swiss League for one season, then joined the New York Rangers from 1981 to 1985. During his tenure in New York, Brooks earned renown for reaching the 100-win plateau faster than any previous Rangers coach and was named The Sporting News' Coach of the Year in 1981-82.

After a season coaching St. Cloud State University, Herb became the first Minnesota native to coach the Minnesota North Stars when he joined the franchise in 1987-88. He later coached the New Jersey Devils in 1992-93 and the Pittsburgh Penguins in 1999-2000.

Through his NHL coaching career, Herb Brooks compiled a record of 219 wins, 221 losses and 66 ties during regular season play, and 19 wins and 21 losses in playoff contests.

As a member of the gold medal-winning United States Olympic Team in 1980, Brooks and his team were awarded the Lester Patrick Trophy for contributions to American hockey in 1980. He earned the same honour as an individual in 2002. In 1990, Herb was honoured by being inducted into the United States Hockey Hall of Fame, earning election to the International Ice Hockey Federation's Hall of Fame in 1999. Herb Brooks was posthumously inducted into the Hockey Hall of Fame in 2006, his life tragically ended in a single car accident in Forest Lake, Minnesota on August 11, 2003.
| | |
| --- | --- |
| | |
| Brooks poses alongside Honoured Member Craig Patrick after being named the head coach of the New York Rangers. | A man of passion and dedication - Herb Brooks inspired a generation of Americans to pursue any and all dreams. |