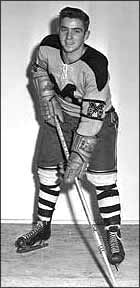 Dick Duff averaged over a point a game during his tenure with the OHA-Jr. St. Mike's Majors, leading his team in scoring both in '52-'53 and '53-'54.

Born February 18, 1936, Terrance Richard 'Dick' Duff was a hockey prodigy on the rinks in his hometown of Kirkland Lake, Ontario. By the age of sixteen, Duff took advantage of interest in his hockey prowess to advance his education, moving to Toronto to attend St. Michael's College. In 1953-54, his second year with St. Mike's, Dick led the Majors in scoring with 35 goals and 75 points, adding 120 penalty minutes. During his third and final year of junior with St. Mike's Majors, Dick led the team in scoring once again with 53 points, but also made his NHL debut, joining the Toronto Maple Leafs on March 10, 1955 for the first of three games with the parent club. Later that season, the Majors beat the Regina Pats to collect the Memorial Cup for 1955. Dick led the Majors in scoring that season.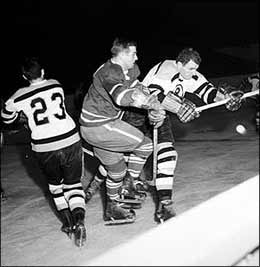 Dick provided a tremendous boost to the Maple Leafs' rebuilding process in the mid 1950s.

In 1955-56, the 19-year-old Duff landed a full time spot with the Toronto Maple Leafs, appearing in 69 games, scoring 18 goals and collecting 37 points with 74 minutes in penalties. Dick was one of the central figures as the Maple Leafs re-built the team through the late-fifties, enjoying three consecutive seasons with 25 or more goals for Toronto between 1956-57 and 1959-59. The foundation of the franchise was built largely from players culled from the Leafs two Ontario junior squads - the Toronto Marlboros and the St. Michael's Majors.

Duff played a pivotal role in the Stanley Cup championship won by the Toronto Maple Leafs in 1962, playing alongside fellow Honoured Members George Armstrong, Johnny Bower, Tim Horton, Red Kelly, David Keon, Frank Mahovlich, Bert Olmstead, Bob Pulford and Allan Stanley. Although he missed more than a quarter of the regular season suffering from a broken ankle, Dick scored the Stanley Cup-winning goal on April 22, 1962, as Toronto edged Chicago 2-1 to win their first Stanley Cup since Bill Barilko and his teammates celebrated in 1951.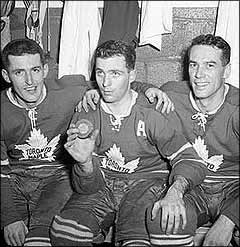 Yet another clutch performance for gifted goal scorer Dick Duff who moments earlier scored the OT winning goal. Teammates Billy Harris (left) and Bert Olmstead (right) flank the man of the hour

The Maple Leafs repeated their Stanley Cup celebration in 1963, with Dickie Duff setting an NHL record by scoring two goals in the first 1:08 of Game One of the final on April 9, 1963. The Leafs beat the Red Wings 4-2 in that contest.

Duff was traded to the New York Rangers in a blockbuster deal on February 22, 1964 that saw Dick, Arnie Brown, Bill Collins, Bob Nevin and Rod Seiling move to Broadway, with Andy Bathgate and Don McKenney joining the Leafs. On December 22, 1964, Duff was traded to the Montreal Canadiens for Billy Hicke.

Having the chance to play for the Canadiens revitalized Duff's spirit and his play. With the Canadiens, Dick was part of four more Stanley Cup championships, winning hockey most treasured prize in 1965, 1966, 1968 and 1969.
Duff was involved in the 1964 blockbuster trade that saw himself, Arnie Brown, Bill Collins, Bob Nevin and Rod Seiling head to the Big Apple in exchange for Andy Bathgate and Don McKenney.

Duff was sold to the Los Angeles Kings in January 1970, and by December that year, was sent with Eddie Shack to the expansion Buffalo Sabres in exchange for Mike McMahon. There, both Duff and Shack joined their old Leaf coach, Punch Imlach.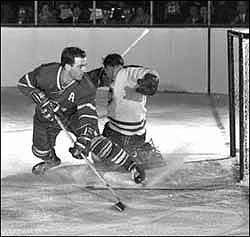 While with Montreal, Dick added four more Stanley Cup championships to the two he had won with Toronto.

The stop in Buffalo was brief, and Dick decided to hang up the blades for good eight games into the 1971-72 season. Through his productive career, Dick Duff collected 572 points (283 goals and 289 assists) in 1,030 regular season NHL games. Through 114 playoff contests, Dick scored 30 goals and 49 assists. He played in seven NHL All-Star Games, as well -- 1956, 1957, 1958, 1962, 1963, 1965 and 1967.

Dick Duff returned to the Toronto Maple Leaf organization in 1979-80 season, and before his retirement, served as a scout, an assistant coach and in 1980-81, was one of three men to coach the Toronto Maple Leafs.
CAREER STATISTICS

REGULAR SEASON
PLAYOFFS
Season
Club
League
GP
G
A
TP
PIM
+/-
GP
G
A
TP
PIM
1952-53
St. Michael's Buzzers
OHA-B
1952-53
St. Michael's Majors
OHA-Jr.
16
3
2
5
2
16
6
9
15
15
1953-54
St. Michael's Majors
OHA-Jr.
59
35
40
75
120
8
2
3
5
23
1954-55
St. Michael's Majors
OHA-Jr.
47
33
20
53
113
5
5
2
7
22
1954-55
Toronto Maple Leafs
NHL
3
0
0
0
2
1955-56
Toronto Maple Leafs
NHL
69
18
19
37
74
5
1
4
5
2
1956-57
Toronto Maple Leafs
NHL
70
26
14
40
50
1957-58
Toronto Maple Leafs
NHL
65
26
23
49
79
1958-59
Toronto Maple Leafs
NHL
69
29
24
53
73
12
4
3
7
8
1959-60
Toronto Maple Leafs
NHL
67
19
22
41
51
10
2
4
6
6
1960-61
Toronto Maple Leafs
NHL
67
16
17
33
54
5
0
1
1
2
1961-62
Toronto Maple Leafs
NHL
51
17
20
37
37
12
3
10
13
20
1962-63
Toronto Maple Leafs
NHL
69
16
19
35
56
10
4
1
5
2
1963-64
Toronto Maple Leafs
NHL
52
7
10
17
59
1963-64
New York Rangers
NHL
14
4
4
8
2
1964-65
New York Rangers
NHL
29
3
9
12
20
1964-65
Montreal Canadiens
NHL
40
9
7
16
16
13
3
6
9
17
1965-66
Montreal Canadiens
NHL
63
21
24
45
78
10
2
5
7
2
1966-67
Montreal Canadiens
NHL
51
12
11
23
23
10
2
3
5
4
1967-68
Montreal Canadiens
NHL
66
25
21
46
21
+6
13
3
4
7
4
1968-69
Montreal Canadiens
NHL
68
19
21
40
24
-13
14
6
8
14
11
1969-70
Montreal Canadiens
NHL
17
1
1
2
4
-5
1969-70
Los Angeles Kings
NHL
32
5
8
13
8
-15
1970-71
Los Angeles Kings
NHL
7
1
0
1
0
-2
1970-71
Buffalo Sabres
NHL
53
7
13
20
12
-16
1971-72
Buffalo Sabres
NHL
8
2
2
4
0
-2
NHL Totals
1030
283
289
572
743
114
30
49
79
78