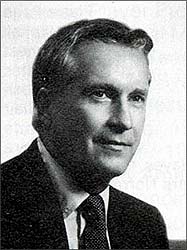 A war veteran and scholar, Harley Hotchkiss moved west to begin a business career marked with passion and success.

As one of several owners of the Calgary Flames' franchise, Harley Hotchkiss is used to experiencing excellence, but when you delve further into his biography, you quickly realize how extraordinary his story truly is.

Born in Tillsonburg, Ontario, Hotchkiss earned a degree in geology from Michigan State University after serving in the Second World War. The Bachelor of Science degree spawned a career that has allowed Hotchkiss to manage his own oil, gas, real estate and agricultural enterprises.

Based in Calgary, Alberta where he has resided since beginning his working career, Harley is a member of several professional societies in both Canada and the United States relating to mineral and oil exploration. He has been named to the Canadian Petroleum Hall of Fame, the Calgary Business Hall of Fame and has been awarded honourary degrees from both his alma mater and from the University of Calgary. Harley also sits on the boards of several corporations, including the Alberta Heritage Foundation for Medical Research and the Foothills Hospital Board.

In 1997, Harley Hotchkiss was appointed an Officer of the Order of Canada. In 1998, he was awarded the Alberta Order of Excellence.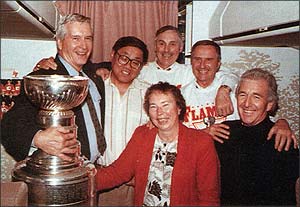 The owners of the Calgary Flames head home after their team's triumphant Cup win in 1989. Pictured from left to right: Harley Hotchkiss, Norman Kwong, Sonia Scurfield, Daryl Seaman, Byron Seaman and
Norman Green.

Hockey has long been a passion for the successful entrepreneur. A member of the Michigan State hockey team while earning his degree, Hotchkiss was part of the group that purchased the Flames in 1980 and was instrumental in overseeing the construction of the Pengrowth Saddledome, built for the Flames and also home to the 1988 Winter Olympics Games.

Under the ownership group of which Harley is part, the Flames have twice been recipients of the Campbell Bowl as Western Division champions, and captured the Stanley Cup in 1989. Hotchkiss also contributed significantly to the creation of the International Hockey Centre of Excellence for Hockey Canada. Besides serving as the NHL Governor for the Calgary Flames, Hotchkiss also sits on the board of the Hockey Hall of Fame and is the long-serving Chairman of the National Hockey League's Board of Governors. Amidst all the accolades, Harley Hotchkiss can now add one more - Honoured Member of the Hockey Hall of Fame in the Builder Category.
Hotchkiss (3rd row, 5th from the left) was instrumental in bringing the Flames from Atlanta to Calgary in 1980. Nine years later, the team captured the Stanley Cup.

Harley Hotchkiss can now add Hockey Hall of Fame Inductee to his numerous honours.