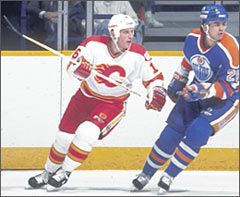 Hull was drafted 117th overall by the Calgary Flames in 1984. (Paul Bereswill/HHOF)

As the son of the "Golden Jet" Bobby Hull, the younger Hull came into the game with the pressure that having a famous name can bring, pressure that he shrugged off easily. After his 1,000th point, Brett and Bobby became the only father and son combo in NHL history to each score 1,000 points and now both will be inducted into the Hockey Hall of Fame.

But this was not the first time the younger Hull hit a scoring milestone. As a St. Louis Blues player nine years earlier, he scored 50 goals in 49 games. He became just the fifth player in NHL history to do the 50/50, tying as third fastest ever. This achievement put Hull in an elite group of superstar players alongside Wayne Gretzky, Maurice Richard, Mike Bossy and Mario Lemieux.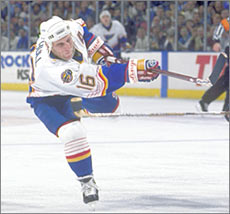 Always a feared shooter, Hull would record seasons of 70, 72 and 86 goals for St. Louis. (David E. Klutho/HHOF)

Despite his father's impressive career, Brett was not always seen as being destined for hockey stardom. He began playing junior hockey in Penticton, in the BCJHL. This was only a Tier II junior team, one level below major junior hockey. In those days, Hull weighed 220 pounds and was nicknamed Pickle. Despite his size, he scored 105 goals in 56 games and won a scholarship to the University of Minnesota-Duluth.

In 1984 the Calgary Flames drafted Hull 117th overall after just two years in college, and he spent the next couple of seasons splitting his playing time between Calgary and their minor league team in Moncton. In Moncton, Hull finished third in league scoring and was name the IHL's Rookie-of-the-Year.
Hull was a key part of winning the inaugural World Cup with the United States in 1996. (Doug MacLellan/HHOF)

In 1988 the Flames traded Hull to St. Louis. In his first season, he scored 41 goals and captured the Lady Byng Memorial Trophy. 1990-91 marked the first of Hull's three consecutive 70-plus goal seasons, which included a career high 86 goals in 1990-91 which earned him the Lester B. Pearson Trophy and the Hart Memorial Trophy as the league's Most Valuable Player.

After eleven seasons in St. Louis, Hull signed with the Dallas Stars in the summer of 1998. He had said he wanted to play for the Chicago Blackhawks, his father's team, but the Stars made him an offer he just could not pass up. Despite the big contract, the move to the Stars took some pressure off Hull. A perennially strong team, the Stars had never played quite as well on the ice as their name suggested. When Hull joined their ranks, they went on to win the Stanley Cup in 1999, with Hull scoring the winning goal in triple overtime.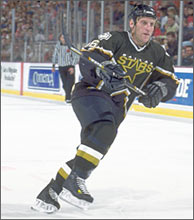 Hull scored the Stanley Cup-winning goal in triple overtime for the Dallas Stars in 1999. (David E. Klutho/HHOF)

Long-time Flyers' goalie Ron Hextall once summed up the opposition's take on Hull: "When he comes in on the wing, he's got an awful lot of speed. If you give him a hole, he hits it." And for his part, Hull has always had a pretty clear idea of what he has been paid to do. Possessed of a mean slapshot and a solid frame, Hull has had a decided knack for finding the back of the net throughout his career.

Early in the 1999-2000 season, Hull scored his 600th goal, thus ensuring he and father Bobby were the first and only father-son combination to reach that remarkable plateau. After three seasons in Dallas, Hull signed as a free agent with the Detroit Red Wings prior to 2001-02 season and went on to capture his second Stanley Cup later that spring.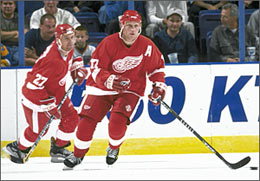 Hull won his second Cup with Detroit in 2002.(David E. Klutho/HHOF)

Hull surpassed the 700-goal mark and 1,300-point mark in 2002-03 and shows no signs of slowing down. After three seasons in Detroit, Hull went on to sign as a free agent with the Phoenix Coyotes in the summer of 2004 and following a lock out year in 2004-05, would play a mere five games with the club before announcing his retirement from the game.

On the international stage Hull has represented the United States at the Winter Olympics (1998 and 2002), the 1996 World Cup, the 1991 Canada Cup and the 1986 World Championships.

In his illustrious NHL career, Brett Hull scored 741 goals, 650 assists and 1,391 points.
CAREER STATISTICS

REGULAR SEASON
PLAYOFFS
Season
Club
League
GP
G
A
TP
PIM
+/-
GP
G
A
TP
PIM
1982-83
Penticton Knights
BCJHL
50
48
56
104
27
1983-84
Penticton Knights
BCJHL
56
105
83
188
20
1984-85
U. of Minnesota-Duluth
WCHA
48
32
28
60
24
1985-86
U. of Minnesota-Duluth
WCHA
42
52
32
84
46
1985-86
United States
WEC-A
10
7
4
11
18
1985-86
Calgary Flames
NHL
2
0
0
0
0
1986-87
Calgary Flames
NHL
5
1
0
1
0
-1
4
2
1
3
0
1986-87
Moncton Golden Flames
AHL
67
50
42
92
16
3
2
2
4
2
1987-88
Calgary Flames
NHL
52
26
24
50
12
+10
1987-88
St. Louis Blues
NHL
13
6
8
14
4
+4
10
7
2
9
4
1988-89
St. Louis Blues
NHL
78
41
43
84
33
-17
10
5
5
10
6
1989-90
St. Louis Blues
NHL
80
72
41
113
24
-1
12
13
8
21
17
1990-91
St. Louis Blues
NHL
78
86
45
131
22
+23
13
11
8
19
4
1991-92
United States
Can-Cup
8
2
7
9
0
1991-92
St. Louis Blues
NHL
73
70
39
109
48
-2
6
4
4
8
4
1992-93
St. Louis Blues
NHL
80
54
47
101
41
-27
11
8
5
13
2
1993-94
St. Louis Blues
NHL
81
57
40
97
38
-3
4
2
1
3
0
1994-95
St. Louis Blues
NHL
48
29
21
50
10
+13
7
6
2
8
0
1995-96
St. Louis Blues
NHL
70
43
40
83
30
+4
13
6
5
11
10
1996-97
United States
W-Cup
7
7
4
11
4
1996-97
St. Louis Blues
NHL
77
42
40
82
10
-9
6
2
7
9
2
1997-98
St. Louis Blues
NHL
66
27
45
72
26
-1
10
3
3
6
2
1997-98
United States
Olympics
4
2
1
3
0
1998-99
Dallas Stars
NHL
60
32
26
58
30
+19
22
8
7
15
4
1999-00
Dallas Stars
NHL
79
24
35
59
43
-21
23
11
13
24
4
2000-01
Dallas Stars
NHL
79
39
40
79
18
+10
10
2
5
7
6
2001-02
Detroit Red Wings
NHL
82
30
33
63
35
+18
23
10
8
18
4
2001-02
United States
Olympics
6
3
5
8
6
2002-03
Detroit Red Wings
NHL
82
37
39
76
22
+11
4
0
1
1
0
2003-04
Detroit Red Wings
NHL
81
25
43
68
12
-4
12
3
2
5
4
2004-05
United States
W-Cup
2
0
0
0
2
0
2004-05
2005-06
Phoenix Coyotes
NHL
5
0
1
1
0
-3
NHL Totals
1269
741
650
1391
458
202
103
87
190
73