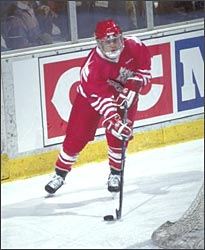 James was Canada's perennial scoring threat no matter where and when she played.

The improbable story of Angela James's incredible hockey success began on the streets of Toronto and through the years, took her to the Hockey Hall of Fame, where she is considered one of the first superstars of women's hockey.

The Flemingdon Park area of Toronto has been known as a tough neighbourhood, where all manner of trouble lurked amidst the public housing. But while some in the area drifted into areas that got them into trouble, Angela was able to resist those vices. "Hockey was my saviour," she admits. "It helped me go in the right direction."

Without access to girls' or women's ice hockey leagues at the time, Angela was registered in a boys' novice league, but only after her mother threatened legal action as league convenors were opposed to a girl playing in the boys' league. But at eight years of age, she was so good that she was moved up to peewee, where she played with 11- and 12-year-old boys. That lasted but one year before the league wouldn't allow her to continue playing.

There was a girls' league nearby, but Angela would need to travel some distance by bus in order to make her games. Her single-parent family, living in subsidized housing, sacrificed substantially to allow Angela to continue pursuing her passion for hockey. The league saw Angela playing with adult women, but she still dominated.

That led to the fledgling Central Ontario Women's Hockey League, which gladly welcomed the 16-year-old James. Angela played in the league from its inception in 1980 until 1998, finishing her career in the National Women's Hockey League. While leading her team to numerous league and provincial championships, she was the leading scorer in eight seasons and most valuable player in six. In 1998, her Toronto Aeros, rebranded the Beatrice Aeros, joined the newly formed National Women's Hockey League (NWHL), scoring 38 goals and 55 points while being named the league's MVP. The Aeros won their first NWHL title in 1999-2000. At the conclusion of the season, Angela retired from competitive hockey.

Angela also played hockey while attending Seneca College. In 1982-83, she led the league in scoring despite being converted to a defenceman, and was voted the OCAA's most valuable player. The next season, Angela again led the league in scoring and repeated as the league's MVP, leading Seneca to its first championship. In 1984-85, she again dominated, finishing as league scoring champion (50 goals in 14 games), earned MVP stripes and led her school to a second championship. Seneca retired her number 8 in 2001, she was inducted into the Seneca Varsity Hall of Fame in 1985 and in 2004, she received the Seneca College Distinguished Alumni Award.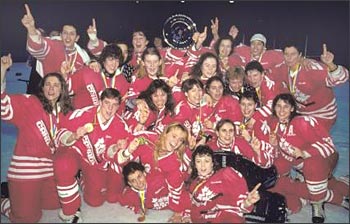 James was part of four Women's ice hockey World Championships with Team Canada.
She played in the first women's world championship, an unsanctioned tournament in 1987. In 1990, she was selected to join Canada's National Team at the inaugural IIHF World Women's Championship, held in Ottawa, where she led the team to the gold medal with a record-setting 11 goals in five games. She also led the Women's Team to gold medals in 1992, 1994, and 1997. In a controversial decision, Angela was excluded from Team Canada Women's Team for the 1998 Winter Olympics. Pundits were shocked -- from 1987 until that time, James had been Canada's perennial scoring threat no matter where and when she played.
Angela James played a style described as a combination of Mark Messier's aggressiveness with the pure goal-scoring skill of Mike Bossy. Her shot was fast and hard. And while Angela is primarily known as a centre, she played defence remarkably well and in one situation where her team arrived without a goaltender, James pulled on the equipment and earned a shutout.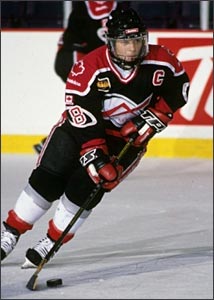 Following an amendment to its by-laws in 2009, the Hockey Hall of Fame opened its doors to women, and welcomed Angela James in 2010.
A superstar in women's hockey, Angela has received numerous career awards and accolades. She won a Youth of the Year Award in 1985 and was recognized by the City of Toronto as one of its Women in Sport Enhancement in 1992. In 2005, Hockey Canada honoured Angela with the Female Breakthrough Award, given for significant contributions to the promotion and/or development of hockey for girls and women in Canada. She was inducted into the Black Hockey and Sports Hall of Fame and the Ontario Colleges Athletic Association (OCAA) Hall of Fame in 2006.
In 2008, she was one of three women inducted into the International Ice Hockey Federation (IIHF) Hall of Fame, the first in the Federation's history, joined by Cammi Granato and Geraldine Heaney. Canada's Sports Hall of Fame inducted James in 2009. In 2008, the Angela James Bowl was instituted, awarded annually to the leading scorer in the Canadian Women's Hockey League (CWHL). Flemingdon Park Arena was renamed Angela James Arena in 2009.
Following an amendment to its by-laws in 2009, the Hockey Hall of Fame opened its doors to women and welcomed Angela James and Cammi Granato in 2010. Never dreaming that anything like being elected to the Hockey Hall of Fame could happen, Angela James beamed: "I'm really honoured to represent the female hockey players from all over the world."
Career International Tournament Statistics

Year
Tournament
No.
GP
G
A
TP
PIM
1990
Women's World Championship
5
11
2
13
10
1992
Women's World Championship
8
5
5
2
7
2
1994
Women's World Championship
8
5
4
5
9
3
1996
Pacific Women's Championship
5
3
4
7
2
1997
Women's World Championship
5
2
3
5
2
Totals
25
25
16
41
19