Vaclav Nedomansky was a pioneering hockey player who was the first to defect from his Eastern European home to play professionally in North America (HHOF).
Vaclav Nedomansky was a pioneering hockey player who was the first to defect from his Eastern European home to play professionally in North America.
'Big Ned' was born March 14, 1944 in Hodonin, in what was then Czechoslovakia, but today is part of the Czech Republic. Because his hometown was close to what is now the Slovak border, he went to school in Bratislava, which is in neighbouring Slovakia. "Back then, it was very equal," he told The Hockey News. "In school, I was able to speak the Czech language, and the same thing for Slovak people. They could use the Slovak language as the official language, too."
Nedomansky enjoyed the pursuit of a number of sports, including basketball, soccer, tennis and hockey. "Once I decided to play hockey, then I trained properly," he stated. "Hockey was my only passion. I was not thinking about any future in hockey except to be better and better every day."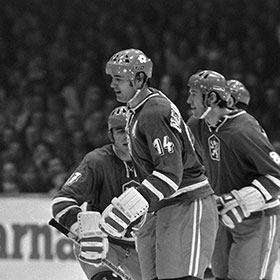 Vaclav Nedomansky skates with his teammates, 1972 (Hannu Lindroos/HHOF).

Beginning in 1962-63, Vaclav played his first of 12 seasons with Slovan Bratislava in the Czech Elite Hockey League and proved to be a prolific goal scorer from the onset. He led the league in goals and points in 1967 (40 goals and 60 points), 1972 (35 goals and 56 points) and in 1974 (46 goals and 74 points). He also represented Czechoslovakia at the IIHF World Ice Hockey Championships nine times. The Czechs only missed collecting a medal once (1967) during Nedomansky's career, winning one gold, five silver and three bronze medals with him on the team. In 1974, he was named Top Forward at the tournament.

In 1968, Czechoslovakia earned the silver medal at the Winter Olympic Games in Grenoble, France, with Nedomansky contributing 5 goals and 2 assists in the seven games played. Czechoslovakia collected the Olympic bronze at the 1972 Winter Olympics in Japan, with Nedomansky finishing second in scoring with 8 goals and 3 assists in 6 games. The Soviet Union invaded and occupied Czechoslovakia in 1968, stripping citizens of many civil liberties. The climate in the country changed dramatically. In 1974, Nedomansky made a bold personal move, defecting to North America and landing in Toronto, where he joined the Toros of the World Hockey Association (WHA). "One of the happiest moments was when I immigrated to Canada," he said. "That way, I was a free man. I could develop not only as a hockey player, but as a person."

The Czech government stripped Nedomansky of his citizenship. "I didn't really care," he admitted to The Hockey News. "I did not think I would come back anyway. I was really happy I could be in Canada at that time. Later, they went through official channels and lawyers and they made an announcement that I would be jailed if I was caught. I didn't pay any attention."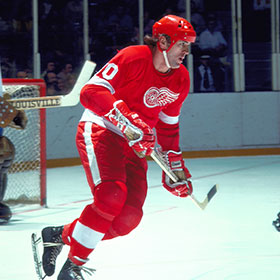 Nedomansky during a game at the Checkerdome in St. Louis Missouri, November 1977 (Steven Goldstein/HHOF).

Vaclav certainly caught the attention of WHA hockey fans. In his first season with the Toros (1974-75), he scored 41 goals and 81 points. The next season, he was even more productive, scoring 56 times and collecting 92 points, and Nedomansky was awarded the Paul Deneau Trophy as the league's most gentlemanly player. The franchise moved to Alabama as the Birminghan Bulls in 1976-77, and Nedomansky put up 36 goals.

After starting the 1977-78 season with Birmingham, Vaclav was part of a rare inter-league trade. In November 1977, the WHA Bulls dealt him and Tim Sheehy to the NHL's Detroit Red Wings for the loan of tough guys Dave Hanson and Steve Durbano. Nedomansky continued to flourish, scoring 38 goals for Detroit in 1978-79 and 35 the following season.

After four seasons with the Wings, he signed with the New York Rangers prior to the 1982-83 season. Nedomansky had been impressed with the coaching of Herb Brooks during the Olympics. "I went to New York because of (Herb Brooks). I went into that training camp without a contract just to play for him and make the team. I listened to him more and liked him very much."

His initial stay in New York was brief. He was claimed on waivers by the St. Louis Blues. At Christmas, Nedomansky went to Blues GM Emile Francis and asked if he could be returned to New York. Francis agreed, and in January 1984, Nedomansky and goalie Glen Hanlon were sent to the Rangers for Andre Dore. Back in New York, he was employed primarily as a powerplay specialist where he scored 12 goals in 35 games.

Although he arrived in the NHL late in his career, he still commanded respect with strong statistics, scoring 122 times and putting up 278 points in 421 regular season contests. "As a young man, I thought there would be more time," he told The Hockey News. "I just couldn't immigrate at that time. I didn't regret that. Even though I came here so late, I enjoyed my time."
REGULAR SEASON
PLAYOFFS
Season
Club
League
GP
G
A
TP
PIM
+/-
GP
G
A
TP
PIM
1962-1964
Slovan Bratislava
Czech
1964-65
Slovan Bratislava
Czech
1964-65
Czechoslovakia
WEC-A
7
4
2
6
2
1965-66
Slovan Bratislava
Czech
1965-66
Czechoslovakia
WEC-A
7
5
2
7
8
1966-67
Slovan Bratislava
Czech
36
41
29
70
22
1966-67
Czechoslovakia
WEC-A
7
1
2
3
14
1967-68
Slovan Bratislava
Czech
36
31
15
46
10
8
5
6
11
1967-68
Czechoslovakia
Olympics
7
5
2
7
4
1968-69
Slovan Bratislava
Czech
36
28
20
48
1968-69
Czechoslovakia
WEC-A
10
9
2
11
10
1969-70
Slovan Bratislava
Czech
36
29
13
42
23
1969-70
Czechoslovakia
WEC-A
10
10
7
17
11
1970-71
Slovan Bratislava
Czech
36
30
16
46
8
8
2
10
1970-71
Czechoslovakia
WEC-A
10
10
7
17
1971-72
Slovan Bratislava
Czech
36
35
21
56
1971-72
Czechoslovakia
Olympics
6
8
3
11
0
1971-72
Czechoslovakia
WEC-A
9
9
6
15
0
1972-73
Slovan Bratislava
Czech
36
22
17
39
1972-73
Czechoslovakia
WEC-A
10
9
3
12
2
1973-74
Slovan Bratislava
Czech
44
46
28
74
1973-74
Czechoslovakia
WEC-A
10
10
3
13
4
1974-75
Toronto Toros
WHA
78
41
40
81
19
6
3
1
4
9
1975-76
Toronto Toros
WHA
81
56
42
98
8
1976-77
Birmingham Bulls
WHA
81
36
33
69
10
1977-78
Birmingham Bulls
WHA
12
2
3
5
6
1977-78
Detroit Red Wings
NHL
63
11
17
28
2
-17
7
3
5
8
0
1978-79
Detroit Red Wings
NHL
80
38
35
73
19
-13
1979-80
Detroit Red Wings
NHL
79
35
39
74
13
-5
1980-81
Detroit Red Wings
NHL
74
12
20
32
30
-35
1981-82
Detroit Red Wings
NHL
68
12
28
40
22
-15
1982-83
New York Rangers
NHL
1
1
0
1
0
-2
1982-83
St. Louis Blues
NHL
22
2
9
11
2
-8
1982-83
New York Rangers
NHL
34
11
8
19
0
+1
NHL Totals
421
122
156
278
88
7
3
5
8
0