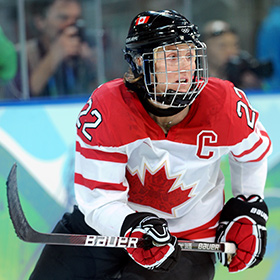 Hayley Wickenheiser dominated in her 23 year career as a member of the Canada's National Women's Team (Matthew Manor/HHOF).
The Hayley Wickenheiser story is, quite candidly, extraordinary. As a member of Canada's National Women's Team, she was the most dominant skater over the course of a 23-year career.
Born August 12, 1978, Hayley Wickenheiser played on boys' teams until she was 13. Just two years later, she was selected for Canada's National Women's Team, and played in the 1994 World Championship, joining her teammates in celebrating a gold medal. Wickenheiser played in 13 World Championships in all, winning gold in 1994, 1997, 1999, 2000, 2004, 2007 and 2012 as well as silver in 2005, 2008, 2009, 2011, 2013 and 2016. Hayley was named to the tournament All-Star Team in 1997, 1999, 2205, 2007 (she was also selected as the Most Valuable Player), 2008, 2011 and 2012. In 61 games at the Women's World Hockey Championships, Wickenheiser has scored 37 goals and added 49 assists for 86 points.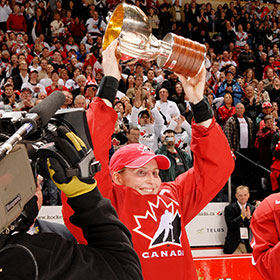 Wickenheiser hoists the World Championship trophy in 2007 (Matthew Manor/HHOF).

Women's hockey was introduced to the Winter Olympic Games in 1998, and Wickenheiser was named to the inaugural team, which took the silver medal that year. Hayley and Canada took the Olympic gold medal in 2002, 2006, 2010 and 2014, with Hayley named tournament MVP in 2002 and 2006. At the time of her retirement, Hayley was the all-time leading women's scorer at the Olympics with 18 goals, 33 assists and 51 points in 26 games. She was honoured to take the athletes' oath in English at the 2010 Winter Olympics opening ceremony and served as Canada's flagbearer at the 2014 Winter Olympics.

Wickenheiser became the first woman to play full-time professional hockey in a position other than goaltender when she joined HC Salamat, a men's team in Finland's third-division league, scoring twice as well as contributing 10 assists in 23 games. She briefly played with Salamat in 2003-04 after the team was elevated to the second division. Undeterred, Hayley continued to work at playing professionally. She enjoyed a tryout with IFK Arboga IK in Sweden's men's third division in 2007, and in 2008-09, signed to play with HC Linden in that same league.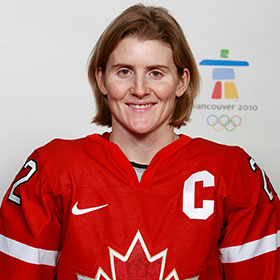 Hayley served as captain in the 2010 Winter Olympic Games in Vancouver, Canada (Jeff Vinnick/HHOF)

While earning a kinesiology degree at the University of Calgary, Hayley joined the Calgary Dinos for the 2010–11 season of women's hockey in the Canadian Interuniversity Sport (CIS). Although she only played in 15 of the team's 24 regular season games, Wickenheiser tied for the scoring lead with 40 points (17 goals and 23 assists). At the conclusion of the season, Wickenheiser was named Canada West's Most Valuable Player, and earned a spot on the First All-Star Team. Going one step further, Hayley won the Brodrick Trophy as the Canadian Interuniversity Sport player of the year in women's hockey. Following the 2012-13 season, Wickenheiser was named to the CIS First Team All-Canadians.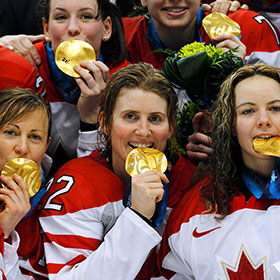 Wickenheiser and teammates show off their gold medals at the 2010 Winter Olympics (Jeff Vinnick/HHOF)

In 1996, Wickenheiser was named MVP of the Esso National Women's Championship. In 1997, she won the Nationals as a member of the Edmonton Chimos and then won again in 1998 with the Calgary Oval X-Treme and was named tournament MVP both years. From 1999 to 2001, she continued to play for her club teams at the Esso Women's National Championships, winning a gold medal and two silvers. In 2004-05, Hayley won the league championship with the Calgary Oval X-Treme in the inaugural season of the Western Women's Hockey League (WWHL). She was the regular season leading scorer and named to the WWHL's All-Star Team. She also played for Alberta at the Esso National Championships, where they won gold. She led the tournament in scoring and was named MVP. In 2015-2016, Wickenheiser joined the Calgary Inferno of the Canadian Women's Hockey League (CWHL), helping the team capture the Clarkson Cup.

2011 was a huge year for Hayley Wickenheiser. In June, she was named an Officer of the Order of Canada, and The Hockey News named her one of the 'Top 100 Most Influential People in Hockey'. That same year, Hayley's hometown of Shaunavon, Saskatchewan named their new recreational complex the Crescent Point Wickenheiser Centre. In 2014, she was inducted into Canada's Walk of Fame and was elected to the International Olympic Committee's Athlete's Commission.

Following her official retirement as a player in January 2017, Hayley returned to university to get her medical degree. In addition, in August 2018, the Toronto Maple Leafs hired Wickenheiser as their Assistant Director of Player Development.
Season
Club
League
GP
G
A
TP
PIM
+/-
GP
G
A
TP
PIM
Regular Season
Playoffs
1993-1994
Canada
World Championships
3
0
1
1
4
1996-1997
Canada
World Championships
5
4
5
9
12
1997-1998
Canada
Olympics
6
2
6
8
4
1998-1999
Calgary Oval X-Treme
ASWHL
1998-1999
Canada
World Championships
5
3
5
8
8
1999-2000
Calgary Oval X-Treme
ASWHL
11
15
5
20
1999-2000
Canada
World Championships
5
1
7
8
4
2000-2001
Calgary Oval X-Treme
ASWHL
14
8
7
15
36
2001-2002
Canada
Olympics
5
7
3
10
2
2002–03
Edmonton Chimos
NWHL
11
4
2
6
16
2002–03
Salamat
Finland
23
2
9
11
10
2003–04
Calgary Oval X-Treme
NWHL
5
10
3
13
6
4
1
3
4
4
0
2003–04
Salamat
Mestis
10
0
0
0
0
2003-2004
Canada
World Championships
5
3
2
5
2
2004-2005
Calgary Oval X-Treme
WWHL
18
22
36
58
20
3
2
2
4
0
0
2004-2005
Canada
World Championships
5
5
3
8
6
2005-2006
Canada
Olympics
5
5
12
17
6
2006-2007
Calgary Oval X-Treme
WWHL
14
27
21
48
16
3
4
8
12
2
0
2006-2007
Canada
World Championships
5
8
6
14
0
2007-2008
Calgary Oval X-Treme
WWHL
22
19
19
30
49
20
3
3
4
7
6
2007-2008
Canada
World Championships
5
3
6
9
6
2008-2009
Linden
Sweden
25
5
6
11
10
2008-2009
Canada
World Championships
5
4
4
8
4
2009-2010
Canada
Olympics
5
2
9
11
0
2010-2011
University of Calgary Dinos
CWUAA
15
17
23
40
32
2
0
3
3
6
2010-2011
Canada
World Championships
5
3
2
5
4
2011-2012
University of Calgary Dinos
CWUAA
16
17
15
32
60
7
4
10
14
4
2011-2012
Canada
World Championships
5
3
7
10
4
2012-2013
University of Calgary Dinos
CWUAA
30
19
34
53
32
8
3
7
10
18
2012-2013
Canada
World Championships
3
0
0
0
2
2013-2014
Canada
Olympics
5
2
3
5
0
2014-2015
University of Calgary Dinos
CWUAA
15
5
14
19
16
2015-2016
Calgary Inferno
CWHL
23
3
13
16
10
3
1
2
3
0
2015-2016
Canada
World Championships
5
0
1
1
0