---

1998 Hockey Hall of Fame Inductees

---
Peter Stastny, Player Category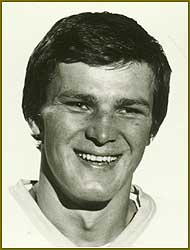 Peter Stastny was one of the game's most respected centermen in a record setting era dominated by Wayne Gretzky. The European-trained forward was a craftsman with the puck. Blessed with excellent skating skills, tremendous balance and uncanny anticipation skills, Stastny made a regular habit of making deft plays and leaving the opposition standing in their tracks.

Peter Stastny was born on September 18, 1956 in Bratislava, Czechoslovakia. He starred for HC Slovan Bratislava from 1973-74 to 1979-80 winning the championship in 1978-79. He was the Czechoslovakian league Player-of-the-Year in 1979-80.

In 1980, Peter defected from Czechoslovakia to pursue a career in the National Hockey League. On August 26, 1980 he signed with the NHL's Quebec Nordiques. Success was immediate as he was rewarded with the 1981 Calder Memorial Trophy as the NHL's Rookie-of-the-Year. That season he set league records for most assists (70) and most points (109) by a first year player. He topped the 100-point plateau in his first six seasons adding another during a fifteen year NHL career that also included seasons with New Jersey and St. Louis. Named captain of the Nordiques from 1985-86 to 1989-90, his point totals in the 1980's were topped only by Wayne Gretzky. In all, Stastny recorded 450 goals and 789 assists for 1,239 points in 977 regular season games. He added 33 goals and 72 assists for 105 points in 93 playoff games. Upon his retirement, he was the highest-scoring European-born and trained player in NHL history and the first 1,000 point man. Peter also played in the NHL's All-Star Game six times between 1981 amd 1988.

At international tournaments, Stastny was a natural choice for the Czechoslovakian National Team. He participated at the 1975 and 1976 World Junior Championships and later helped the senior national team win the 1976 and 1977 World and European Championships followed by a silver medal finish in 1978 and 1979. He also competed at the 1976 Canada Cup when the Czechoslovakian National Team finished second to Canada. Stastny enjoyed personal success at the 1980 Lake Placid Olympics finishing second in scoring with fourteen points. Peter's international colours changed when he became a Canadian citizen on April 2, 1984. That fall he participated with Team Canada at the 1984 Canada Cup tournament. A decade later he was able to join the Slovakian National Team prior to the 1993-94 season for an Olympic Qualification Tournament in Sheffield, England. He rejoined the team as a member of Slovan Bratislava in early November to play at Telehockeycup in Norway. He played at the 1994 Lillehammer Olympics and the 1995 World Championship (Pool B) as a member of the Slovakian National Team.


Michel Goulet, Player Category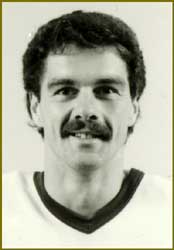 Throughout the 1980's, Michel Goulet proved to be one of the more consistently high scoring left wingers in the National Hockey League. He managed to accomplish this while under the intense scrutiny of the hometown Quebecois fans.

Michel was born in Peribonka, Quebec on April 21, 1960 and was the fifth of eight brothers. He would sneak away early in the morning to the local high school arena for a skate before heading to class, then returning home to help with the farm chores. Michel's skill and passion for the game led him to Quebec City, where he would play his junior hockey for the local Remparts. In 1977-78, his second and final junior season, Goulet scored 73 goals to lead his team.

In 1978, Goulet elected to skip his final two seasons of junior eligibility and join the World Hockey Association's Birmingham Bulls. Goulet scored 28 goals in his only season with the Bulls and learned the defensive aspect of the game from coach John Brophy. Following the 1978-79 season, Michel was drafted by the Quebec Nordiques in the first round of the 1979 NHL Entry Draft and embarked upon a fifteen year NHL career.

In his first four seasons with the Nordiques, Michel gradually increased his production, amassing a career high 57 goals in 1982-83. This led to four consecutive 50 plus goal seasons and a career high point total of 121 in 1983-84. Also over this span, Goulet led Quebec to two Stanley Cup semi-final appearances. Michel spent three and a half more seasons with the Nordiques, counting two 40 plus goal totals. Over his time in Quebec City, he had played in five All-Star games, had been selected a First Team All-Star three times and a Second Team All-Star twice. On March 5, 1990, Michel was traded to the Chicago Blackhawks where he would spend four and a half seasons culminating in a trip to the Stanley Cup final in 1992. He had three 20 goal seasons with the Blackhawks and would eventually be forced to retire after suffering a serious head injury on March 16, 1994.

In addition to his NHL experience, Michel was also a veteran of the international game, representing Canada on three separate occasions. After his tremendous 1982-83 season, Michel was asked to play for his country at the 1983 World Championships in West Germany. He accepted and promptly went on to score nine points in the tournament, tying Hall of Famer Marcel Dionne for the team lead and helping Canada capture the bronze medal. As well, Michel also participated in both the 1984 and 1987 Canada Cup competitions. He was a formidable force in '84, tying for second in tournament scoring with eleven points, behind only Wayne Gretzky, as Canada defeated Sweden in the final. During the '87 tourney Michel proved to be a strong asset, scoring five points as Canada captured a second consecutive tournament.

Michel officially announced his retirement on January 26, 1995, after a career that included 548 goals and 1,152 points, currently placing him in 15th place on the career goal list. Following his retirement, the Quebec Nordiques held "Michel Goulet Night" at the Colisee and retired his number sixteen. Michel is currently employed by the Colorado Avalanche as their Director of Player Personnel and in that role he was a part of the 1995-96 Stanley Cup Champions.


Roy Conacher, Veteran Player Category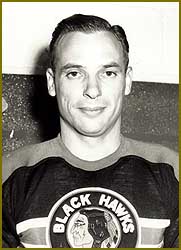 Born in Toronto, Ontario on October 5, 1916, Roy Conacher and his twin brother Bert were the youngest of five boys in a family that also included Hall of Famers Charlie and Lionel. There were also five girls, creating a very competitive spirit in an extremely hectic household. As youngsters, Roy and Bert were inseparable and surprisingly enough Roy was more interested in softball than hockey. Inevitably Roy and Bert quickly took to the family sport. At the age of 16, Bert was accidentally hit in the eye during a street hockey game by older brother Charlie and lost sight in one eye, thus ending his professional aspirations.

Roy went on to play for Jesse Ketchum school in Toronto, later joining the Marlboro Bantams and Midgets. During the 1935-36 season, Roy starred with the West Toronto Nationals that captured the Memorial Cup championship. The following year, he was an All-Star with the O.H.A. Senior champion, Dominion Breweries. After one more season of senior hockey in the Northern Ontario loop, Roy was invited to the Boston Bruins training camp at the age of 22. With his name preceding him, expectations were high for possibly the most naturally talented of the hockey playing Conachers.

During the 1938-39 NHL season, Roy led the NHL with 26 goals and was runner-up to teammate Frank Brimsek as rookie-of-the-year. This pace continued during the playoffs, as Roy scored six goals, including the Stanley Cup winner versus the Toronto Maple Leafs. Over the next three seasons, he led the Bruins along with linemate and Hall of Famer Bill Cowley. Roy was one of the NHL's leading scorers during the 1939-40 season until breaking his wrist and missing 16 games. The following season Roy helped Cowley capture the league scoring title and the Bruins won another Stanley Cup. With World War II now in full swing, Roy played one more season before joining the Royal Canadian Air Force, forcing him to miss the next four seasons of action while in his prime.

After an honourable discharge in 1946, he joined the Bruins for the stretch run. However, General Manager and Coach Art Ross, thought it impossible for a player to return to the NHL after a four year absence and play at the same level. So, Roy was traded to the Detroit Red Wings and picked up where he left off, leading the Red Wings in scoring with 30 goals. Art Ross, when later asked what his biggest mistake as a coach and general manager was, replied, "Trading Roy Conacher."

The following season he was traded to the archrival Chicago Blackhawks, where he continued the rapid pace. With brother Charlie at the helm as coach, Roy would lead the NHL in scoring during the 1948-49 season with 68 points and was named to the First All-Star Team, despite playing for a last place club. This historical moment meant Charlie and Roy were the only brother combination in NHL history to win the Art Ross Trophy as leading scorer.

Roy would play three final NHL seasons before retiring due to injuries in 1952. He played in the All-Star game in 1950 and was named to the team in 1952, but couldn't play, again due to injuries. Roy finished his outstanding career with 226 goals, one more than his older brother Charlie. After his retirement, Roy returned to Midland, Ontario and coached the Midland Red Wings, twice winning the Ontario Junior "C" championship.

Roy continued in hockey, playing in old-timer/charity games and along with his wife Fran, had three children, Roy Jr., Mark and Candace. Roy moved to British Columbia before he passed away in 1984.


Monsignor Athol "Pere" Murray, Builder Category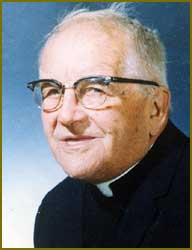 Monsignor Athol Murray blessed the many people whose lives he touched with unbreakable determination, intelligence, high ideals and an unwavering belief in God. The Athol Murray College of Notre Dame in Wilcox, Saskatchewan has become a famous educational institution, combining academic and athletic pursuits in the heartland of the Canadian prairies.

Athol "Pere" Murray was born on January 9, 1892 in Toronto, Ontario, Canada. He was educated at Montreal's Loyola College, Toronto's St. Michael's College, St. Hyacinthe College in Quebec and Laval University. It was during the time he was studying law at Toronto's Osgoode Hall that he read the words of St. Augustine. The latter made a great impact that would affect the rest of his life. He entered Toronto's St. Augustine's Seminary being ordained in 1918 and was sent to Regina, Saskatchewan in 1922 on loan from the Diocese of Toronto. One of his initial projects was starting an athletic club for boys. Five years later he was appointed to St. Augustine's parish in Wilcox. "Pere" Murray provided teaching and coaching lessons to help shape the lives of the many youths that attended Notre Dame College. He challenged young minds with academics and provided opportunity through sport to maintain a balanced curriculum.

Quoted in the Calgary Albertan in 1944, "Pere" Murray had a clear vision for the future of the game. "Young hockey players can look forward to a lucrative future in the sport. Not only in England, but all Europe as well as the United States will soon be clamoring for hockey." he said. "They'll want our players. Get those hangars turned into rinks and build up the juniors and we'll have the players to send."

More than one hundred "Hounds" have been drafted by the NHL, including Vincent Lecavalier, the number one selection at the 1998 NHL Entry Draft as well as Rod Brind 'Amour, Wendel Clark and Curtis Joseph. A large number of alumni have also received NCAA Division I scholarships.

Athol Murray was the recipient of our countries highest honour, the Order of Canada, in 1968. He was inducted into Canada's Sports Hall of Fame in 1972. He passed away on December 15, 1975. Notre Dame College was officially renamed Athol Murray College of Notre Dame on May 19, 1981.


Howie Meeker, Foster Hewitt Memorial Award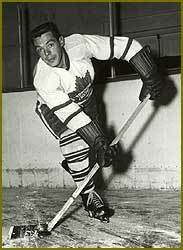 Howie Meeker, former Calder Memorial Trophy winner for the Toronto Maple Leafs, former MP for the Conservative Party in the early 1950's and long time hockey broadcaster is the recipient of the 1998 Foster Hewitt Memorial Award as voted by his fellow broadcasters.

Howie Meeker was born in Kitchener, Ontario on November 4, 1924. His goal like most Canadian boys growing up was to play in the National Hockey League. Meeker's path, although he did play in the NHL, took a turn or two before and after his playing days. Even though Howie had been recruited by Hap Day for the Toronto Maple Leafs while finishing his junior "B' career in Stratford, he decided his country was far more important than hockey. At the tender age of 18, Howie enlisted in the Canadian Armed Forces. Three years later he returned from overseas and decided to again pursue his dream - the Toronto Maple Leafs. In the 1946-47 season, Meeker captured the Calder Memorial Trophy as NHL rookie of the year. In addiiton, Meeker performed the unthinkable that year, scoring five goals in one game.

Unfortunately for Howie, a back injury ended his career in 1953, but not before he established some roots throughout the hockey world. Meeker began a second career in hockey, as a hockey school instructor, sports director for radio and one of the familiar voices on Hockey Night in Canada on CBC and later with TSN.

"According to Howie, "I never really had any skill being a broadcaster, I really didn't have any business on television. I didn't have one of those syrupy voices." Maybe not, but Meeker had a wealth of knowledge and, better yet, his unbridled enthusiasm for a sport he played coached and preached." From his great one liners, to his genuine care for the game from a learning point of view, Howie Meeker has given back to hockey everything he has gained. A 30-year career in broadcasting came to end in 1998, as a special ceremony was held in Vancouver before a Canucks/Flames game to honour one of hockey's true legends.

Howie Meeker, the 1998 recipient of the Foster Hewitt Memorial Award as selected by the NHL Broadcasters' Association.


Yvon Pedneault, Elmer Ferguson Memorial Award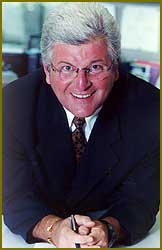 Yvon Pedneault's aspiration to become a sports journalist commenced in small town Chicoutimi, Quebec. He joined the local newspaper in 1965 as the bowling writer and within one year Pedneault was the sports editor of the weekly paper, "Progres-Dimanche".

In 1965, Pedneault relocated offices 300 miles to the south in Montreal, Quebec, being hired by another Elmer Ferguson Honouree, the late Jacques Beauchamp. Working with the "Montreal Matin" newspaper, Pedneault was able to cover his favourite sport, hockey. He was responsible for reporting both the Montreal Junior Canadiens and their parent club, the senior Canadiens, as well as the local horse racing scene.

Pedneault also toiled for Montreal's two other daily newspapers during his career. "La Presse" on one occasion, where he again followed the NHL's Canadiens and "Le Journal de Montreal", on two separate instances, the first as a hockey writer and the second as their sports editor. Along with Pedneault's work as a reporter, he has also worked with four separate television stations in the Montreal area; CBC French, TVA, TQS and RDS. At each station he was one of the primary correspondents that covered the Habs. It is believed that Pedneault is the only person to work full-time for all three Montreal daily papers, as well as every television station that has carried Montreal Canadiens games.

Pedneault also spent a short stint as the General Manager of a team in the Quebec Major Junior Hockey League, acquiring a keen knowledge of hockey that helped produce educated articles on both the game and its players. Finally, he conducted a radio hot-line show for a few years with Quebec's oldest radio station, CKAC. Currently Pedneault is the colour commentator for hockey games on RDS (Reseau-des-Sports), TSN's French sister station in Quebec.

Yvon Pedneault, the 1998 recipient of the Elmer Ferguson Memorial Award as selected by the Professional Hockey Writers' Association.