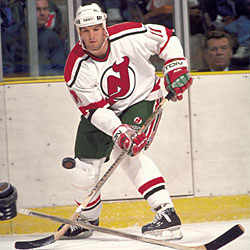 Shanahan began his NHL career with the New Jersey Devils.

Brendan Frederick Shanahan was born January 23, 1969 in Mimico, a neighbourhood on the western perimeter of Toronto. One of four boys, the Shanahans excelled in sports, holding special interest in lacrosse and hockey.

After starring locally, Brendan was drafted by the London Knights of the Ontario Hockey League in 1985. He spent two outstanding seasons with the Knights.

Shanahan was drafted second overall by the New Jersey Devils in the 1987 NHL Entry Draft and joined the team that fall. As an 18-year-old rookie, Shanahan collected 26 points in 65 games. The following season (1988-89), he improved to 22 goals and 50 points, but it was in his third NHL season that Shanahan emerged as a point-per-game producer with 72 points (including 30 goals) in 73 games.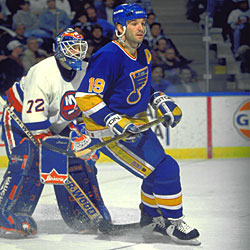 Shanahan reached the 50 goal mark in consecutive seasons with the St. Louis Blues.

After four seasons with New Jersey, Brendan became a restricted free agent following the 1990-91 season, and subsequently signed with the St. Louis Blues, who surrendered Scott Stevens for the opportunity. In his second season with the Blues, Shanahan exploded in 1992-93 with 51 goals and 94 points. In 1993-94, he collected personal bests in goals (52), assists (50) and points (102). He finished eighth in scoring and earned selection to the NHL's First All-Star Team.

After three seasons in St. Louis, Brendan was traded to the Hartford Whalers for Chris Pronger in July 1995 and was introduced as the team captain. He scored 44 goals and 78 points in his only full season in Hartford. Two games into the following season, Brendan and Brian Glynn were traded to the Detroit Red Wings for Paul Coffey, Keith Primeau and a first-round draft pick. He finished the season with 47 goals and 88 points, tenth best in the league that season. Through the playoffs, Shanahan contributed 17 points as the Red Wings captured their first Stanley Cup championship since 1955. Shanahan and the Red Wings repeated as Stanley Cup champions in 1997-98.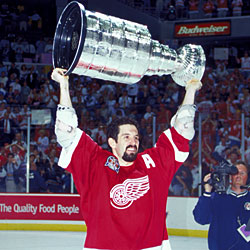 Shanahan was part of three Stanley Cup winners with the Detroit Red Wings.

Brendan scored 41 goals and 78 points in 1999-2000, and was awarded selection to the NHL's First All-Star Team for a second time. He made the Second All-Star Team in 2001-02, scoring 37 goals and 75 points. During that season, Brendan scored his 1,000th point and 500th goal. He then added 19 more points as the Red Wings went on to win the Stanley Cup.

In 2002-03, Shanahan scored 30 goals and 68 points. At the annual NHL Awards, he was named winner of the King Clancy Memorial Trophy as recognition of his humanitarian efforts.

Following the NHL lock-out in 2004-05, Shanahan scored 40 goals and 81 points, good for third in points among the Red Wings.

After nine very successful seasons in Detroit, Brendan became a free agent following the 2005-06 season and signed a one-year deal with the New York Rangers. Early in the 2006-07 season, he scored his 600th career goal. Shortly afterwards, Shanahan was recipient of the inaugural Mark Messier Leadership Award, a monthly honour (at the time) presented to a player who best exemplifies leadership skills on and off the ice.
On the international stage Shanahan was part of the gold medal winning Canadian team at the 2002 Olympic Winter Games.

Brendan played two seasons with the Rangers. Without a contract, he sat out the first part of the 2008-09 season. Then, on January 10, 2009, he agreed to join the New Jersey Devils for a second stint that lasted one season.

On November 17, 2009, Shanahan officially announced his retirement after 21 years in the NHL. Shanahan said, "I would like to thank my family and all of the friends who have helped me achieve and maintain my childhood dream of playing in the National Hockey League. While I always dreamed of playing in the NHL, I can't honestly say that I would have ever imagined that I'd be this fortunate and blessed. I would like to sincerely thank everyone who has helped me fulfill this dream." Through 1,524 regular season games, Brendan Shanahan scored 656 goals and 698 assists for 1,354 points. He also earned 2,489 minutes in penalties. In playoff competition, he scored 60 goals and 74 assists for 134 points in 184 games, while also serving 280 penalty minutes. Also of note are that Brendan had nineteen consecutive seasons scoreing 20 or more goals. He is also the only NHL player to have scored 600+ goals and 2,000+ penalty minutes.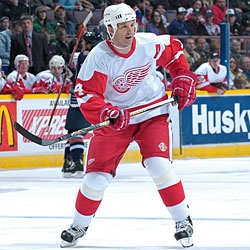 At the time of his retirement, Shanahan ranked as the only NHL player to have scored 600+ goals and record 2,000+ penalty minutes.

Shanahan's contributions extend beyond the National Hockey League. In international play, Brendan was a member of Team Canada at the World Junior Championships in 1987, helped his team win a gold medal at the Canada Cup in 1991, was a member of the gold medal championship won by Canada at the International Ice Hockey Federation World Championships in 1994, won a silver medal at the 1996 World Cup of Hockey, was a member of Team Canada at the 1998 Olympic Winter Games in 1998 and won a gold medal for his country in 2002 and played for Canada at the 2006 World Championships.

But Shanahan proved to be a leader off the ice, too. During the NHL lock-out in 2004-05, he engaged players, coaches and other influential voices in a two-day conference to discuss improvements to the flow and tempo of the game. These recommendations were presented to the league and to the NHL Players' Association.

In December 2009, Brendan was named the NHL's Vice President of Hockey and Business Development. In June 1, 2011, he was assigned the role of chief player disciplinarian for the National Hockey League.




CAREER STATISTICS

REGULAR SEASON
PLAYOFFS
Season
Club
League
GP
G
A
TP
PIM
+/-
GP
G
A
TP
PIM
1984-85
Mississauga Reps
MTHL
36
20
21
41
26
1984-85
Dixie Beehives
ON-Jr.A
1
0
0
0
0
1985-86
London Knights
OHL
59
28
34
62
70
5
5
5
10
5
1986-87
London Knights
OHL
56
39
53
92
92
1986-87
Canada
WJC-A
6
4
3
7
4
1987-88
New Jersey Devils
NHL
65
7
19
26
131
-20
12
2
1
3
44
1988-89
New Jersey Devils
NHL
68
22
28
50
115
+2
1989-90
New Jersey Devils
NHL
73
30
42
72
137
+15
6
3
3
6
20
1990-91
New Jersey Devils
NHL
75
29
37
66
141
+4
7
3
5
8
12
1991-92
Canada
Can-Cup
8
2
0
2
6
1991-92
St. Louis Blues
NHL
80
33
36
69
171
-3
6
2
3
5
14
1992-93
St. Louis Blues
NHL
71
51
43
94
174
+10
11
4
3
7
18
1993-94
St. Louis Blues
NHL
81
52
50
102
211
-9
4
2
5
7
4
1993-94
Canada
WC-A
6
4
3
7
6
1994-95
Dusseldorfer EG
Germany
3
5
3
8
4
1994-95
St. Louis Blues
NHL
45
20
21
41
136
+7
5
4
5
9
14
1995-96
Hartford Whalers
NHL
74
44
34
78
125
+2
1996-97
Canada
W-Cup
7
3
3
6
8
1996-97
Hartford Whalers
NHL
2
1
0
1
0
+1
1996-97
Detroit Red Wings
NHL
79
46
41
87
131
+31
20
9
8
17
43
1997-98
Detroit Red Wings
NHL
75
28
29
57
154
+6
20
5
4
9
22
1997-98
Canada
Olympics
6
2
0
2
0
1998-99
Detroit Red Wings
NHL
81
31
27
58
123
+2
10
3
7
10
6
1999-00
Detroit Red Wings
NHL
78
41
37
78
105
+24
9
3
2
5
10
2000-01
Detroit Red Wings
NHL
81
31
45
76
81
+9
2
2
2
4
0
2001-02
Detroit Red Wings
NHL
80
37
38
75
118
+23
23
8
11
19
20
2001-02
Canada
Olympics
6
0
1
1
0
2002-03
Detroit Red Wings
NHL
78
30
38
68
103
+5
4
1
1
2
4
2003-04
Detroit Red Wings
NHL
82
25
28
53
117
+15
12
1
5
6
20
2004-05
2005-06
Detroit Red Wings
NHL
82
40
41
81
105
+29
6
1
1
2
6
2005-06
Canada
WC-A
8
3
1
4
10
2006-07
New York Rangers
NHL
67
29
33
62
47
+2
10
5
2
7
12
2007-08
New York Rangers
NHL
73
23
23
46
35
-2
10
1
4
5
8
2008-09
New Jersey Devils
NHL
34
6
8
14
29
-2
7
1
2
3
2
NHL Totals
1524
656
698
1354
2489
184
60
74
134
279