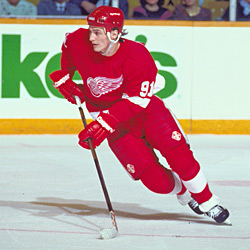 Fedorov recorded 30+ goals ten times during his NHL career.

Sergei Fedorov could do it all. He was a superb skater with great hands and the hockey intellect to create exciting goals, but was so defensively sound that he was regularly considered for the NHL's Selke Trophy.

Born December 13, 1969 in Pskov, Soviet Union, Sergei Fedorov caught the eyes of NHL scouts at the 1987 World Junior Championships. He played in the World Juniors again in 1988 and was named a tournament All-Star as the Soviets claimed the silver medal.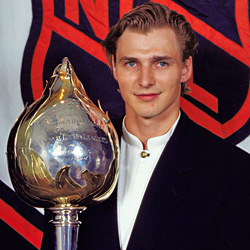 Fedorov dominated the 1993-94 season, earning the Hart Trophy, the Lester B. Pearson Award and the Selke Trophy.

Playing on a sensational line with Pavel Bure and Alexander Mogilny, the line collected 38 points at the 1989 World Junior Championships and led the Soviet Union to a gold medal. Later that year, he made his debut with the Soviet National Team at the World Championships. The 19-year-old Fedorov led the Soviets in goals as they captured the gold medal. The Soviet Union repeated as champions at the 1990 World Championships.

Sergei Fedorov was drafted in the fourth round, 74th overall, by the Detroit Red Wings in the 1989 NHL Entry Draft. There was political unrest in the Soviet Union at the time, and there was no guarantee that any Soviet Union player would be able to join an NHL team. In 1990, while his club team, CSKA Moscow, was in Seattle, Washington for the Goodwill Games, he quietly slipped away, defecting to Detroit so he could begin his NHL career.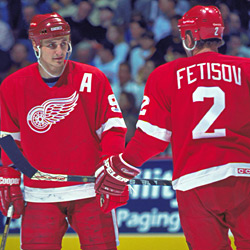 The Russian Five: Sergei Fedorov, Vyacheslav Kozlov, Igor Larionov, Slava Fetisov and Vladimir Konstantinov, dazzled fans with their speed, skill and their ability to shut down their opponent's offence.

Fedorov was an immediate star. He scored 31 goals in his debut season. It was indicative of his enormous skill, and he was named to the NHL All-Rookie Team. In thirteen seasons with the Red Wings, he scored 20+ goals twelve times, had 30+ goals in nine seasons and was extraordinary in 1993-94, a career season in which he scored 56 goals and totaled 120 points.

In the mid-1990's, Detroit's head coach Scotty Bowman put together a unit that came to be known as the Russian Five: Fedorov at centre with Vyacheslav Kozlov on left wing, Igor Larionov on right wing and Slava Fetisov and Vladimir Konstantinov on defence. The five-man unit dazzled fans with their speed, skill and their ability to shut down their opponent's offence.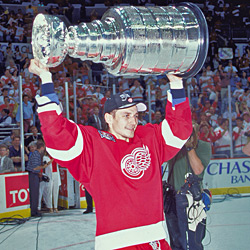 Fedorov was a member of three Stanley Cup championship teams with the Detroit Red Wings in 1997, 1998 and 2002.

Fedorov played a pivotal role in three Red Wings Stanley Cup championships (1997, 1998 and 2002) and was a six-time All-Star. In his brilliant 1993-94 season, he finished second in regular season scoring, won the Hart Trophy, the Lester B. Pearson Award, the Selke Trophy and was a First Team All-Star. Sergei won the Selke again in 1996 after scoring 39 goals and 107 points in 78 games, while playing stellar defensively.

During the 2003 off-season, Fedorov signed with the Mighty Ducks of Anaheim, and led the team in goals and points in 2003-04. During that season, he picked up his 1,000th NHL point, becoming the first Russian-born player to do so.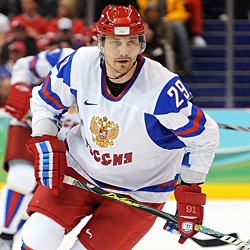 A decorated international player, Fedorov is a three time World Champion: 1989, 1990 and 2008.

Early in the 2005-06 season, he was traded to the Columbus Blue Jackets, and it was there that he played his 1,000th regular season NHL game.

At the trade deadline during the 2007-08 season, Fedorov was dealt to the Washington Capitals, where he would finish his NHL career.

His NHL statistics are staggering: 483 goals, 696 assists and 1,179 points in 1,248 regular season games, as well as 52 goals and 124 assists for 176 points in 183 playoff games.

Sergei Fedorov returned to Russia for the 2009-10 season, joining Magnitogorsk where he played for three seasons, was named captain in 2011-12 and was named to the Kontinental Hockey League All-Star in all three seasons.

Sergei starred not only in the Soviet League and the NHL, but also in international competition. While playing with the World Juniors, Fedorov and the Soviets took the silver medal in 1988 and the gold medal in 1989. He played on gold medal-winning teams at the World Championships in 1989, 1990 and 2008, plus silver in 2010. He won Olympic silver in 1998 and bronze in 2002. He also owns a bronze medal from the 1996 World Cup of Hockey.




CAREER STATISTICS

REGULAR SEASON
PLAYOFFS
Season
Club
League
GP
G
A
TP
PIM
+/-
GP
G
A
TP
PIM
1985-86
Dynamo Minsk
USSR-2
15
6
1
7
10
1986-87
CSKA Moscow
USSR
29
6
6
12
12
1986-87
Soviet Union
WJC-A
6
0
0
0
8
1987-88
CSKA Moscow
USSR
48
7
9
16
20
1987-88
Soviet Union
WJC-A
7
5
7
12
0
1988-89
CSKA Moscow
USSR
44
9
8
17
35
1988-89
Soviet Union
WJC-A
7
4
8
12
4
1988-89
Soviet Union
WEC-A
10
6
3
9
10
1989-90
CSKA Moscow
USSR
48
19
10
29
22
1989-90
CSKA Moscow
Fr-Tour
1
0
0
0
2
1989-90
CSKA Moscow
Super-S
5
2
2
4
11
1989-90
Soviet Union
WEC-A
10
4
2
6
10
1990-91
Detroit Red Wings
NHL
77
31
48
79
66
+11
7
1
5
6
4
1991-92
Soviet Union
Can-Cup
5
2
2
4
6
1991-92
Detroit Red Wings
NHL
80
32
54
86
72
+26
11
5
5
10
8
1992-93
Detroit Red Wings
NHL
73
34
53
87
72
+33
7
3
6
9
23
1993-94
Detroit Red Wings
NHL
82
56
64
120
34
+48
7
1
7
8
6
1994-95
Detroit Red Wings
NHL
42
20
30
50
24
+6
17
7
17
24
6
1995-96
Detroit Red Wings
NHL
78
39
68
107
48
+49
19
2
18
20
10
1996-97
Russia
W-Cup
5
3
3
6
2
1996-97
Detroit Red Wings
NHL
74
30
33
63
30
+29
20
8
12
20
12
1997-98
Russia
Olympics
6
1
5
6
8
1997-98
Detroit Red Wings
NHL
21
6
11
17
25
+10
22
10
10
20
12
1998-99
Detroit Red Wings
NHL
77
26
37
63
66
+9
10
1
8
9
8
1999-00
Detroit Red Wings
NHL
68
27
35
62
22
+8
9
4
4
8
4
2000-01
Detroit Red Wings
NHL
75
32
37
69
40
+12
6
2
5
7
0
2001-02
Detroit Red Wings
NHL
81
31
37
68
36
+20
23
5
14
19
20
2001-02
Russia
Olympics
6
2
2
4
4
+3
2002-03
Detroit Red Wings
NHL
80
36
47
83
52
+15
4
1
2
3
0
2003-04
Mighty Ducks of Anaheim
NHL
80
31
34
65
42
-5
2004-05
2005-06
Mighty Ducks of Anaheim
NHL
5
0
1
1
2
-1
2005-06
Columbus Blue Jackets
NHL
62
12
31
43
64
-1
2006-07
Columbus Blue Jackets
NHL
73
18
24
42
56
-7
2007-08
Columbus Blue Jackets
NHL
50
9
19
28
30
-3
2007-08
Washington Capitals
NHL
18
2
11
13
8
-2
7
1
4
5
8
2007-08
Russia
WC-A
9
5
7
12
8
+10
2008-09
Washington Capitals
NHL
52
11
22
33
50
+4
14
1
7
8
12
2009-10
Metallurg Magnitogorsk
KHL
50
9
20
29
47
8
1
1
2
4
2009-10
Russia
Olympics
4
0
4
4
6
+2
2009-10
Russia
WC-A
9
2
4
6
12
+5
2010-11
Metallurg Magnitogorsk
KHL
48
7
16
23
40
20
5
7
12
16
2011-12
Metallurg Magnitogorsk
KHL
43
6
16
22
36
10
1
3
4
6
NHL Totals
1248
483
696
1179
839
183
52
124
176
133