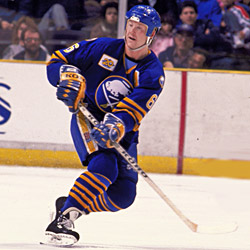 Housley joined the Buffalo Sabres for the 1982-83 season.

Phil Housley retired with the record for most points and games played by an American-born player in the National Hockey League history.

Phillip Francis Housley was born March 9, 1964 in St. Paul, Minnesota. A hockey prodigy from an early age, Housley scored 118 goals as an 8th grader at the Bantam level. He went on to star for his high school, South St. Paul High, and was selected to play for the U.S. National Team at both the World Junior Championships and the World Championship.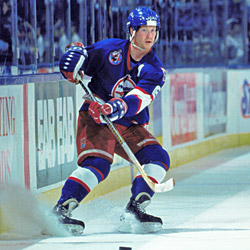 Housley retired as the leading scorer in NHL history amongst U.S.- born players.

Phil was drafted sixth overall by the Buffalo Sabres in the 1982 NHL Entry Draft, and joined the Sabres on defence that fall. He had an outstanding rookie season in 1982-83, scoring 19 goals and 66 points to earn a berth on the league's All-Rookie Team. He scored a staggering 31 goals as a second-year player, and was picked to play in the NHL All-Star Game for the first of seven times. He starred during eight seasons in Buffalo before being traded to the Winnipeg Jets with Scott Arniel, Jeff Parker and a first round draft pick in exchange for Dale Hawerchuk and a first round selection.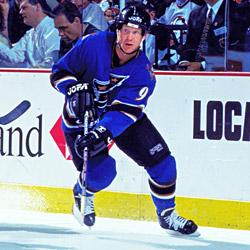 Housley played in the NHL All-Star game on seven occasions.

Housley spent three productive seasons with the Jets, including a Second All-Star Team selection in 1992. He was also a finalist for the Norris Trophy as the NHL's top defenceman that same season. In 1992-93, he enjoyed a career year in which he collected 97 points. But Phil was then dealt to the St. Louis Blues just prior to the 1993-94 season, a trade that saw the Jets receive Nelson Emerson and Stephane Quintal. One season with the Blues and Phil was sent packing to the Calgary Flames along with second round draft picks in 1996 and 1997 in exchange for Al MacInnis and a fourth round pick in 1997. During his second season in Calgary, the Flames traded Housley and Dan Keczmer to the New Jersey Devils for Tommy Albelin, Cale Hulse and Jocelyn Lemieux.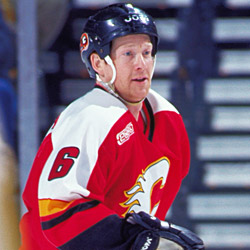 With 1,232 points, Housley is the fourth leading scorer amongst defencemen in NHL history.

Signed as a free agent by Washington in July 1996, Phil spent two seasons with the Capitals, and in his last season, he and his teammates went all the way to the Stanley Cup final before being swept by the Detroit Red Wings. It was the closest Housley got to winning the Stanley Cup during his NHL career. In fact, Housley played more games without winning the Stanley Cup than any player in NHL history.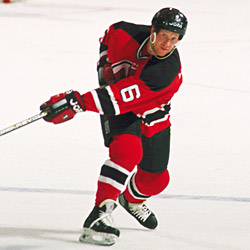 Housley was elected to the United States Hockey Hall of Fame in 2004.

During the summer of 1998, he was claimed on waivers by Calgary and returned to play three more seasons with the Flames. In September 2001, the Chicago Blackhawks claimed Housley in the waiver draft. He played the better part of two seasons with the Hawks, but at the trade deadline in 2003, Phil was traded to the Maple Leafs for two draft picks. Hoping to employ Housley's veteran leadership and offence from the blueline in their drive towards the Stanley Cup, Phil played but one regular season game and three playoff games before Toronto's season came to an abrupt end. Phil Housley's career came to a conclusion, too, and he announced his retirement in January 2004.

While his career consisted of a number of stops and starts, Housley always proved to be a cerebral player with strong offensive talent. He played 1,495 regular season NHL games, amassing a record of 338 goals and 894 assists for 1,232 points. In post-season play, he added 13 goals and 43 assists for 56 points in 85 games. Phil is the second-leading scorer amongst American-born players, in spite of playing defence.

In addition, he contributed significantly to the United States' entries at the World Championships in 1982, 1986, 1989, 2000, 2001 and 2003, as well as the 1984 and 1987 Canada Cup tournaments. At the World Cup of Hockey in 1996, Phil and the team took first place. He was also part of Team USA's silver medal effort at the 2002 Winter Olympics.

In 2004, Phil Housley was inducted into the United States Hockey Hall of Fame.




CAREER STATISTICS

REGULAR SEASON
PLAYOFFS
Season
Club
League
GP
G
A
TP
PIM
+/-
GP
G
A
TP
PIM
1980-81
South St. Paul High School
High-MN
18
28
26
54
1980-81
St. Paul Vulcans
USHL
6
7
7
14
6
10
5
5
10
0
1981-82
South St. Paul High School
High-MN
22
31
34
65
18
1981-82
United States
WJC-A
7
1
0
1
6
1981-82
United States
WEC-A
7
1
0
1
4
1982-83
Buffalo Sabres
NHL
77
19
47
66
39
-4
10
3
4
7
2
1983-84
Buffalo Sabres
NHL
75
31
46
77
33
+3
3
0
0
0
6
1984-85
United States
Can-Cup
6
0
2
2
0
1984-85
Buffalo Sabres
NHL
73
16
53
69
28
+15
5
3
2
5
2
1985-86
Buffalo Sabres
NHL
79
15
47
62
54
-9
1985-86
United States
WEC-A
10
2
6
8
4
1986-87
Buffalo Sabres
NHL
78
21
46
67
57
-2
1987-88
United States
Can-Cup
5
0
2
2
4
1987-88
Buffalo Sabres
NHL
74
29
37
66
96
-17
6
2
4
6
6
1988-89
Buffalo Sabres
NHL
72
26
44
70
47
+6
5
1
3
4
2
1988-89
United States
WEC-A
7
3
4
7
2
1989-90
Buffalo Sabres
NHL
80
21
60
81
32
+11
6
1
4
5
4
1990-91
Winnipeg Jets
NHL
78
23
53
76
24
-13
1991-92
Winnipeg Jets
NHL
74
23
63
86
92
-5
7
1
4
5
0
1992-93
Winnipeg Jets
NHL
80
18
79
97
52
-14
6
0
7
7
2
1993-94
St. Louis Blues
NHL
26
7
15
22
12
-5
4
2
1
3
4
1994-95
Zurcher SC
Swiss
10
6
8
14
34
1994-95
Calgary Flames
NHL
43
8
35
43
18
+17
7
0
9
9
0
1995-96
Calgary Flames
NHL
59
16
36
52
22
-2
1995-96
New Jersey Devils
NHL
22
1
15
16
8
-4
1996-97
United States
W-Cup
1
0
1
1
0
1996-97
Washington Capitals
NHL
77
11
29
40
24
-10
1997-98
Washington Capitals
NHL
64
6
25
31
24
-10
18
0
4
4
4
1998-99
Calgary Flames
NHL
79
11
43
54
52
+14
1999-00
Calgary Flames
NHL
78
11
44
55
24
-12
1999-00
United States
WC-A
7
2
3
5
0
+2
2000-01
Calgary Flames
NHL
69
4
30
34
24
-15
2000-01
United States
WC-A
9
0
1
1
4
0
2001-02
Chicago Blackhawks
NHL
80
15
24
39
34
-3
5
0
1
1
4
2001-02
United States
Olympics
6
1
4
5
0
+5
2002-03
Chicago Blackhawks
NHL
57
6
23
29
24
+7
2002-03
Toronto Maple Leafs
NHL
1
0
0
0
2
-1
3
0
0
0
0
2002-03
United States
WC-A
6
1
1
2
4
+3
NHL Totals
1495
338
894
1232
822
85
13
43
56
36