---

Bob Miller

---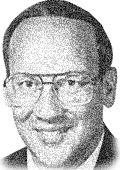 The "Voice of Los Angeles Kings", Bob Miller has been calling the play-by-play for the Californian based club since 1973, with the 2000-01 NHL season marking his 28th year in the booth.

A native of Chicago, Illinois, Miller received his degree from the University of Iowa where his broadcasting career began, covering the school's Hawkeye football and baseball games. His first professional assignment came in 1960, as a news and sports reporter for WITI-TV in Milwaukee, Wisconsin. Four years later, Miller was off to Madison, Wisconsin as the Sports Director at WMTV, before joining WKOW-TV and Radio in 1966. While with WKOW-TV, Miller would take on added responsibility, becoming the voice of the University of Wisconsin Badgers hockey, football and basketball teams, along with hosting two television sports shows. Three years later he would join the Badgers permanently as the Director of TV/Radio, while remaining as their on-air voice.

Miller's next big break came in 1973, when he was hired to become the play-by-play announcer for the Los Angeles Kings of the NHL, which he continues to this day. Over the years, many L.A. area fans would learn the game of hockey through Bob Miller's voice, his name synonymous with the game. On November 24, 1995, he reached a personal milestone, calling career NHL game #2000 during a game versus the Boston Bruins. During the club's 30th anniversary celebration on March 14, 1997, he was named as one of six inaugural members of the Kings Hall of Fame and along with trainer Pete Demers, is the only non-player of the group. The accolades continued as he was named California's Sportscaster of the Year in 1997 and on January 31, 1998, the Kings held a special "Bob Miller Night" in honour of his 25th year of broadcasting for the club. That night, famed broadcasters, Chick Hearn and Vin Scully honoured Miller and he was presented with a "lifetime contract" by the club.

Miller not only continues as the Kings broadcaster, but also is a well-respected and tremendous ambassador abroad, lending his voice to numerous TV and film projects, including, "Cheers", "Miracle on Ice", "The Mighty Ducks" and "The Mighty Ducks 2". Beginning in 1999-2000 with the opening of the brand-new facility, the Staples Center, Miller would now be forever recognized with his name attached to the, "Bob Miller Press Box".

Bob Miller currently lives in West Hills, California with his wife, Judy and has one daughter, Kristin and a son, Kevin. Miller is the 2000 recipient of the Foster Hewitt Memorial Award from the Hockey Hall of Fame.