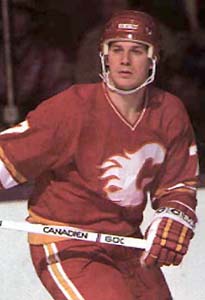 Growing up in the heart of New York City and not having hockey skates until the age of 10 are just a couple of the obstacles Joseph Mullen overcame to become the preeminent U.S.-born NHL player of his era.

Joe was born in Hell's Kitchen, New York on February 26, 1957. He was born to Tom and Marion Mullen, who would be instrumental in steering a young Joe through the proper choices in life. He learned his early hockey skills on the street wearing roller skates and with a role of electrical tape in place of the puck. His father worked at Madison Square Garden and would frequently bring home discarded sticks for Joe and his brother Brian to use. Joe finally received his first pair of skates at age 10 and instantly began to flourish. He would play four seasons in the New York Metro Junior Hockey League and during his final season against weaker competition recorded unheard of totals with 110 goals and 182 points in only 40 games.

The next season 1975-76, Mullen was off to play for the Boston College Eagles, however, unlike most aspiring hockey players, Boston College was unable to offer him a scholarship and he was forced to spend $700 to get through the year. They money proved to be well worth it though, gaining a full ride for the next three seasons, his final two of which he was a 1st Team All-American. Following his final year in Boston, 1978-79, Mullen had his first opportunity to represent his country at the World Championships in Moscow, recording 8 points in 8 games.

After many NHL teams had shied away from him in the draft, claiming he was too small and couldn't play defensively, the St. Louis Blues took a risk and signed him as a free agent. Over the course of the next three seasons, Mullen would only play 56 games in St. Louis, spending most of his time developing in Salt Lake City of the Central Hockey League. This time in the minors would prove critical to his success. In 1979-80, he was named the league's top rookie and was named to the 2nd All-Star team, while the following year he led in scoring with 117 points, was named to the 1st All-Star team and won MVP honours.

Finally, during the 1981-82 season, he got his break with a mid-season call-up and never looked back. That year, Mullen became the first player in history to record 20 goals during the same season in the minors and in the NHL. Mullen would have 4½ productive years with the Blues, recording two consecutive 40-goal seasons, as well as representing the U.S. during the 1984 Canada Cup. Joe was quickly becoming known as a tenacious player, who flourished against larger, more intimidating forces and this was in demand in the NHL, leading to his trade to Calgary mid-way through 1985-86.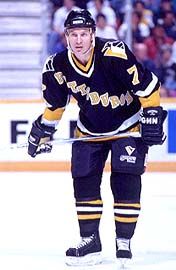 Mullen would spend the next 4½ years in Calgary, recording two more 40-goal seasons and a career-high 51 goals in 1988-89. During this time he would again represent the U.S. in the 1987 Canada Cup, win two Lady Byng Trophies for both his sportsmanship and abilities, be named to the 1989 1st All-Star team and capture his first Stanley Cup in 1989. During the summer of 1990, he was traded to the Pittsburgh Penguins. Over the next five seasons, Joe led by example, recording another 40-goal year and two 30-goal years, however, it was his leadership during the Penguins' Stanley Cup championships of 1991 and 1992 that stood out. Also in 1991, he led a strong U.S. to a 2nd place finish at the Canada Cup.
Mullen finished his career with one season in each Boston and Pittsburgh before retiring following the 1996-97 season, not before leaving his legacy however. On February 7, 1995 in Florida, Joe became the first U.S. born player to reach the 1,000-point plateau, finishing his career with 502 goals and 1,063 points, the all-time U.S. leader. He was awarded the Lester Patrick Trophy for his outstanding service to U.S. hockey and during troubled times in 1998, at the age of 41, came out of retirement to save the U.S. from relegation to the 'B' Pool World Championship. A final farewell for America's best.
Denis Savard | Walter L. Bush, Jr.